Eagle Cap Wilderness, Oregon, Two Pan Trailhead, 2005
Scott Noga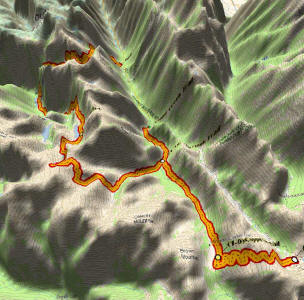 Phil Bleazard (Scoutmaster) and myself as Assistant Scoutmaster, set aside the second week of August 2005 for a Boy Scout 50-mile backpacking excursion. Troop 152 is located in a rural area north of Pasco in SE Washington. It was decided to venture into the northern Eagle Cap Wilderness area of the Wallowa Mountains in NE Oregon. This wilderness area is noted for it's breathtaking mountain scenery and many lakes and streams. The Two Pan trailhead in the northern wilderness area starts at 5600 feet elevation and rises to about ten thousand feet at Eagle Cap and Matterhorn. The ridge trails are typically eight to nine thousand feet elevation and the valley trails are typically six to seven thousand feet. This wasn't going to be an easy "walk in the park" so I decided to take only Pepper Corn, being he is by far in the best shape of all our llamas. As alpha male (intact), he's constantly active keeping track of his girls, watching for intruders and keeping tabs on the other males, unrelentingly pacing the fence line. At twelve years of age and about 325lbs. he is not real large, but is stout and muscular. He also loves adventure and enjoys going for rides and experiencing new things. He's a real easy packer, staying with the group off-lead while hiking and hanging around camp without being staked out.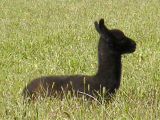 The intention was to pack everything up over the weekend and leave early Monday morning. Saturday was consumed by vehicle and equipment preparation. The troop was looking forward to riding in the llama bus. Our converted bus has a table and plenty of room for entertainment as well as llamas. Sunday was reserved for packing everything – at least that was the plan. However, Gayle and I were presented with a surprise as we returned home early afternoon. When we left that morning, we had fourteen llamas. But quite unexpectedly, it now appeared we had fifteen. A tiny cria was cushed out in the middle of the pasture. Lloyal Mariah had given birth to a new baby boy! We didn't even know she was pregnant. Not only that, we were told following an exam the previous year at the WSU Pullman veterinary hospital that she probably could never carry a baby to term again due to a very shrunken uterus. (She's had five now.) This did explain why she had been so cranky though. We had begun training her for driving (cart pulling) the prior year and she was doing very well in the cart, until one day she decided she wanted no more of that, throwing a fit. Taking her to the Farragut drive-in this year and teaming her didn't help either. We were recently informed by her prior owner that she consistently gets real moody when pregnant, but is great otherwise.

Baby Rowdy weighed in at 24 lbs. but mom wasn't producing milk, though her teats were very swollen. With temperature in the high 90's and sun beating down, Rowdy was getting dehydrated, not to mention missing out on the colostrum. To make a longer story short, intervention to deal with the issues took up the whole day. I was up until 1AM Monday morning packing the panniers, etc. for the trip that I couldn't back out of at that point, and Gayle was left with the responsibility of continued care for Rowdy and Mariah. As an aside, in case you're wondering who the sire was, yes, it was Pepper. He had jumped the fence (and impaled himself on a T-post) a year before when the neighbor's pigs escaped and ran into our yard late one very dark evening. I had heard what sounded like a person scream and went out to investigate, flashlight in hand, but found nothing amiss. The girls appeared to be all cushed out in their pasture. I didn't see Pepper in his field but that wasn't unusual as that black boy was often concealed behind an object somewhere. Early the next morning I found him cushed and bloodied in the girls pasture. We dressed his chest wound and rushed him to the vet. As a precaution we administered prostaglandin to all the girls at the prescribed time to prevent pregnancy, but Pepper and Mariah beat all the odds. By the way, T-post caps are a must have, as we discovered the hard way, even if they are the extra large 7' size.
Up at 5AM, the plan was to gather at my place and pull out at 7AM. We managed 8:30AM and arrived at the Two Pan trailhead about 1PM. The hike to the first destination for overnight camping was over six miles in and 1800 feet higher. With a group of 25 people, we had to split up into smaller groups to satisfy the wilderness requirements. Everything was going pretty smoothly on the trek in, except Pepper hadn't defecated since leaving home and also had lost his appetite. Even stream crossings didn't stimulate him. His digestive system appeared to have shut down completely. He gradually slowed and increasingly had a dull, glazed over look and droopy ears. Temperature was in the high 80's / low 90's and he obviously wasn't feeling well. To his credit he persevered and we straggled into camp at dusk. The only other significant difficulty was with one of the boys who was unable to make the distance with his pack -- their packs being very heavy to start with. Phil and myself traded off carrying it during the steeper portions of the trail. Fortunately, my pack was relatively light at only 35 lbs. due to Pepper's help, who was carrying 80 lbs. in his Flaming Star Master Pack system.

Matterhorn
By morning his constipation had broke loose and he had relieved himself. His demeanor was noticeably brighter. This day was spent on a day hike over Carper Pass to Mirror Lake. The original intention was to hike to Eagle Cap, but after the 3.5 mile 2000 foot climb up and then down the pass it was decided that there wasn't enough time left in the day to make the additional 4.5 mile, 2500 foot climb to the top and still make it back to camp before nightfall. So instead some time was spent near Mirror Lake followed by a 1500 foot climb up a nearby peak to 8900 feet. While most of the group was on this day hike, four members hiked out to head for home – two adults and two youth. The night had a few very light sprinkles of rain, and what sounded like coyotes (wolves?) could be heard in the distance. Pepper never alarmed, so they apparently never approached camp. We did have a young deer come within twenty feet of camp while everyone was up, seemingly unconcerned about us.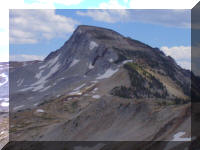 Eagle Cap
Day three began early, before sunrise. We had a long trek ahead, hiking from Minam Lake to Steamboat Lake – a distance of 12 miles generally descending a thousand feet, climbing two thousand, then descending a thousand again. Two boys required foot taping from blisters. Most of them, as recommended by the Scoutmaster, had prepared with special hiking socks or liners which proved to be very beneficial. A small group, with two more adults, hiked out to head for home and to move Phil's truck to the Bowman trailhead, where the rest of us would hike out. They carried extra gear that some of the boys decided they didn't need after all, which better prepared them for the coming ordeal. We were now down to three adults and 16 boys. Pepper was feeling great and was excited as we hit the trail. The first stream crossing revealed a bit of a problem, however. On the hike in the streams were quite shallow and passable by hopping across stepping stones. Apparently, rain fell at higher elevations overnight because the stream was now twice as deep and flowing rapidly. All crossings this day would require changing out of hiking shoes and wading. One of the older boys slipped and fell during this first crossing, soaking his clothes and the hiking shoes he tied to his pack. I loaned him my new pair of Salomon Tech Amphibian shoes for the remainder of the day.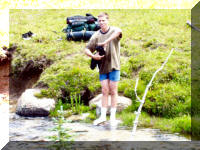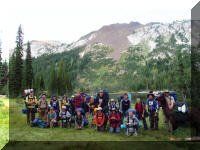 Prepared to leave Minam Lake
The first portion of this day was mostly downhill, following the river through the valley, but was followed by a long climb out of the valley into the rugged high country. This was the most picturesque part of the trip, with high mountain peaks as far as the eye could see, interspersed with deep valleys and lush depressions and lakes. But once out of the valley above the tree line, the terrain becomes very rocky, strewn with granite. These trails are not as heavily traveled or maintained, and consequently more obstacles are encountered. Nothing would stop Pepper, however – as I was to discover.

Copper Creek
As we reached an 8500 foot high point overlooking Swamp Lake, we encountered a party hiking out of Steamboat Lake on their way to Minam Lake. They were essentially taking the same route we were during the week, only in reverse. It was obvious they weren't going to make this leg in one day, however. They were accompanied by three fully loaded horses and looked pretty beaten down already. It turned out one of the members was a large format photographer in his early 60's. The horses were being used to help move the necessary equipment and supporting gear. The previous morning, one horse got spooked as they were about to move out and ran off with it's load. They had to then unload another horse to mount up and chase it down. The reason they were late this morning coming out of Steamboat was because again as they were about to pull out, one of the horses was casually grazing when it stepped on it's own lead rope. This caused the horse to bump it's nose on the ground, which sent it into a panic. Bucking wildly with it's full load, it accidentally fell into the lake. With only it's nose protruding from the water the horse nearly drowned as they went in to pull it out. They exclaimed never again will they bring horses into the backcountry but were quite intrigued with Pepper, who was still going strong with his full load and was very alert and eagerly but calmly following along. Following a prolonged discussion about llamas, I provided contact info for Richard Galloway and Wes Holmquist (being they reside in this region), which they wrote down.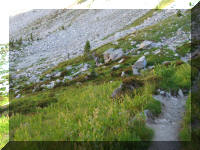 I should mention that we encountered equestrian groups a few times on this trip. Each time the horses were very jittery about seeing a llama, as we moved off the trail. One instance was rather treacherous as we were overtaken by a group on a narrow set of uphill switchbacks on a steep hillside when the trailing horse decided he wanted to buck and run away back down the trail. The rider had to quickly dismount and calm the horse before he was thrown. It could have been a long fall. But none of the groups of riders was openly hostile. We were courteous and accommodated the horses, and pleasantries were exchanged in each case as they hurried along. Backpackers were also encountered a few times, and the common exclamation was, "Wow, we don't ever see llamas up here, cool!", followed by a discussion about llamas. Pepper attracted attention from all sides. We did see one group of llamas, however, camped only two and a half miles in from the Two Pan trailhead in a meadow at a fork in the trail. We counted six llamas staked out. Though it was mid-morning they didn't appear to be going anywhere. Pepper didn't allow this distraction to slow him down either.
At Swamp Lake the sun was getting low in the sky, but Steamboat Lake was just over the next ridge, sitting in a deep bowl. This is where I made the mistake of relying too heavily on GPS data. The GPS trail map had been pretty reliable so far, but at the junction from Swamp Lake to Long Lake and Steamboat Lake, the indicated trail had no horse tracks, or any other tracks for that matter. The signage pointed to Long Lake ahead, but did not mention Steamboat Lake. I hiked ahead a short ways to see if another intersection appeared, but none did, nor did the trail head in the right direction. Well, the GPS says this is it, and it's obviously a trail, so here goes...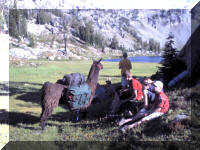 Resting at Swamp Lake, with Pepper wondering what all the lollygagging is about. Snap to it slackers or give me 50!!
It went straight up the ridge – no switchbacks. Littered with rock, it was extremely steep – almost all fours steep. Pepper charged up to the top, plowing through the scruffy trees along the way. Once on the ridge, Steamboat came into view about 1000 feet below. The trail disappeared into the steep bowl, cut into the granite. Down we went with me leading and Pepper following close behind. It didn't take long (well, maybe it did take too long...) to realize this was a totally abandoned trail. A 6' tree growing in the middle of it partway down provided a clue, and the cut trail was littered with lots of loose granite rock of all sizes. There was no turning around at that point, and I could imagine encountering a rock slide or some other impassible obstruction. Worse, at any time a loose rock could break loose or come rolling down the trail and hit Pepper in the leg and severely injure him. There'd be no way we could get him out. I wasn't sure I could even make it. The trail was dangerous. Yet, as I was imagining all sorts of potential mishaps, Pepper was more interested in nibbling on little patches of grass poking out of the rock that on the uphill side was tantalizingly close, thinking increasingly about his stomach and seemingly completely unconcerned about the terrain. He picked his way around every obstacle with finesse and traversed the slopes like a mountain goat. Eventually, near the bottom of the bowl we met up with what was obviously the new trail and made our way to the lake -- and what a beautiful and welcome lake it was. There was enough daylight left to make camp and dinner (for those that had energy enough to prepare it) and hit the sack.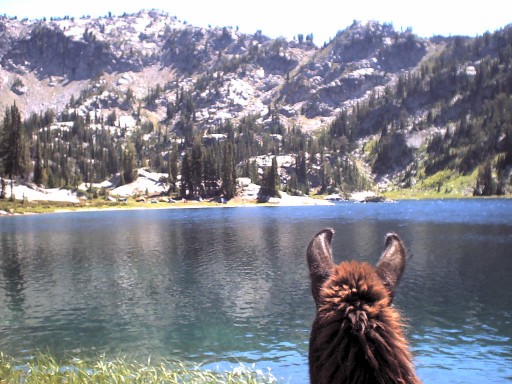 Looking back at the ridge we descend into Steamboat Lake, more distant than it appears as the lake continues around the foreground point where we camped.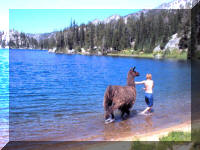 Day four was play day. Pepper was turned loose and allowed to go wherever he pleased. The boys swam and played on a rock island out in the lake, cliff dived, played capture the flag, practiced with the wrist rocket slingshot I typically carry on llama pack trips, skipping rocks, and generally relaxed. We pretty much had the whole lake to ourselves. Only five visitors in two groups were seen during our entire stay, all just passing by. The water at both Minam and Steamboat lakes was chilly, but warmer than I had expected. Daytime temperature was in the high 80's. There was plenty of forage for Pepper and he enjoyed exploring his new surroundings, paying some attention to the squirrels, yet being good about not wandering too far away. Mosquitoes were not bad at all -- probably due to the bats that came out each night -- but the horseflies were a bit of a pest during the day. When we encountered a fresh pile of horse manure on the trail it would usually be swarming with flies. In contrast, Peppers manure didn't attract the flies (nor did he leave any on the trail).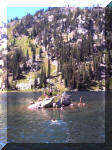 Day five was again another long trek out, continuing along the same trail, but this time with considerably lighter loads – except for Pepper and myself. With our provisions replaced by noncombustible trash donated by the boys – I was amazed at the amount – his load was still nearly as much at 75 lbs. We hiked through Minam Meadows – a large expanse of grassland nestled in a basin that attracts large numbers of elk and deer. We also spotted a pair of harmless snakes. The boys were like hares, sprinting ahead, burning out and resting while Pepper and I plodded along at a steady pace, passing them up again. Pepper moved more slowly this day, but never protested or stopped. Heat was the barrier. It was a 2500 foot climb out of the meadows to Wilson Pass (2000 feet in 2.5 miles of trail) with temperature near 90 degrees. He would get overheated and start puffing so we had to keep a slow pace to prevent heat stress. It's also quite a long stretch without water. Once at the crest of the ridge, it's down the other side into the valley 3000 feet below to Bowman. In all, we hiked 50 miles of trail, but more remarkable was all the elevation change.

Scott & Pepper at Wilson Pass
The truck waiting for us was found to have a flat tire, but other than that inconvenience retrieving the llama bus and the subsequent trip home was relatively uneventful. The boys were still surprisingly energetic on the bus. We stopped at McDonalds for a late dinner to offset all that healthy trail food, arriving back home about midnight. Pepper seemed none the worse for wear. Despite the rocky terrain his pads were fine afterwards too. All that pacing had certainly paid off for our "Master Packer".
---