North Eagle Cap (Two Pan Trailhead), 2005
Click to enlarge photos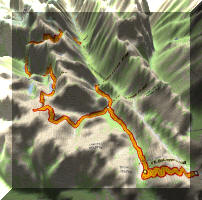 Topographical Route, about 50 miles of trail in all, ranging between 5200' to 8700'.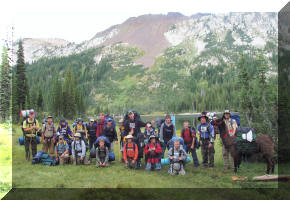 What remained of the group at Minam Lake early on day three, ready to head to Steamboat Lake -- a 12+ hour one-day hike.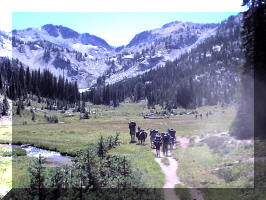 Hiking along Copper Creek on the Copper Creek Trail we enter a lush, scenic 8000' meadow surrounded by snow covered peaks on three sides.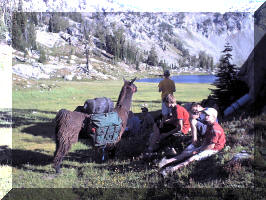 Boys taking a breather at Swamp Lake late in the day after about 12 hours of hiking, with Pepper ready to go and wondering what all the lollygagging is about.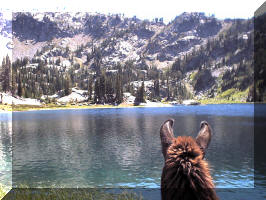 Looking back at Steamboat Lake, with our campsite along the foreground point and the lake continuing beyond it to the abandoned trail that descended the ridge in the background.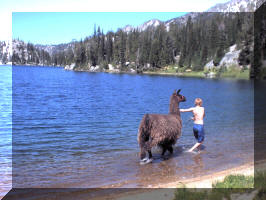 The boys enjoyed having Pepper along! Day four was play day at Steamboat Lake.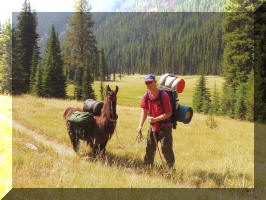 A small portion of Minam Meadows in the background, which attracts herds of deer and elk. Day five.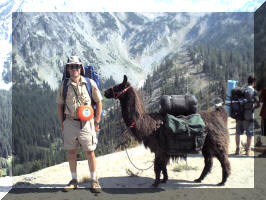 Scott and Pepper at Wilson Pass on day five, after climbing out of the valley in the background.