Rattlesnake Ridge Rowdy
ILR # 265370
Rambunctious and Inquisitive
Master of gates. Given time he can figure out any latch and spring his compatriots.
Gives lots of kisses (to make up for his mischief).





August 7th 2005 -- New cria! Sired by PepperCorn
---
Looking up to mom. Three weeks old and enjoying every minute of it.
---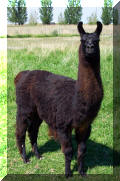 Two years old
---