Rattlesnake Ridge Llama Ranch
Visitors are always welcome!
Located in the starkly beautiful Columbia Basin of Southeastern Washington State, USA, our ranch has a view of Rattlesnake Mountain and the ridge that follows it. Rattlesnake has the dubious distinction of being the tallest treeless mountain in the "lower 48" States. Natively, the local "shrub-steppe" ecology is most predominately covered in varieties of sagebrush and bunchgrass (rapidly vanishing due to human activities and invasive species). Being in the rain shadow of the Cascade mountain range to the west, and bordered by the Blue Mountains to the east, the six inches of annual rainfall is confined to the cool/cold weather months -- just the opposite of the desert southwestern US. Summers are very dry, sunny and hot. Near the confluence of the Columbia, Snake and Yakima rivers, water is nevertheless plentiful.
Feel free to browse around and get to know us (people and llama's alike). We're pretty casual, as you'll see in the photographs on this site. Rather than carefully prepped and posed, you'll catch us just the way we are. So please excuse us if the hair isn't perfect and a few wrinkles show.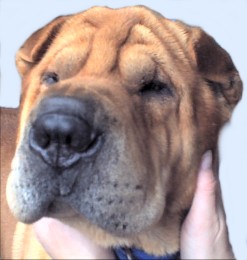 Samson welcomes you!
(now from the great beyond... RIP Sammy - 2006)
---
Contact Information
Owner

Scott & Gayle Noga

Telephone

509 545-5903

FAX

509 545-5903

Postal address

350 Tracie Road, Pasco, WA 99301-8895

Electronic mail
---
Click to join the llama list
Created by Rebus Communications, LLC