The 2013 Lakes Basin pack trip allowed me to visit all the lakes in the Lakes Basin, plus the high elevation Razz Lake, with the exception of the rarely visited Unit Lake. My goal this July 2nd trip was to find and visit Unit Lake for the first time. The trouble with Unit Lake is that the trail to it hasn't been maintained in very many years and like Razz requires bushwacking to find. However, Razz sees a fair amount of foot traffic heading pretty much straight uphill, and being on a steep hill there isn't a lot of deadfall obstacles that can't be navigated as they tend to fall generally downhill. In contrast, Unit Lake sits at lower elevation and the path to it generally follows a heavily forested draw that has filled with abundant boxed-in deadfall. Navigating this maze is difficult for a person, let alone a four-legged creature. It takes considerable time to pick a way through all the obstacles, with many dead ends along the way. Impassible to horses, this destination requires a very capable llama. RRR Rowdy accompanied me on this trip, as he had on the Lakes Basin loop.
Instead of starting at the Two Pan trailhead, this excursion began at the West Fork Wallowa trailhead. (See the 2013 Lakes Basin page for a map.) Thursday, going into a holiday weekend, I expected crowds to be higher than typical and getting progressively worse. There is no camping at this trailhead but it does have a grassy park and picnic area with toilets. One notable feature of this trailhead is a horse outfitter operation. This became quickly apparent at the trails are pretty much paved in horse manure, both fresh and "seasoned". Consequently, the trails are lined with non-native plant species and pesky flies are extremely abundant, including biting horseflies. Mosquitoes are also present.
The trail is otherwise quite easy to navigate, generally a very gradual climb to six mile meadow, which is actually 6.9 trail miles per the GPS. The route is forested and mostly shady, which was welcome due to the 90+F temperatures. The connecting trail to the Lakes Basin climbs west out of the valley after two crossings of the Wallowa River. Water was upper-thigh deep and flowing pretty strongly. Rowdy got his underside wet, as did the panniers, but he actually likes the water and this was a welcome cool-down. I had been splashing his underside at every shallow stream crossing along the way to help keep him cool in the high temperatures.
Some horse groups were on their way out as we went in but few other people were seen until arriving at Horseshoe Lake. The outfitters had hauled in a large group and one other other smaller group was camped. I found a grassy area where Rowdy could rest for a while. Rowdy doesn't need to be staked out as he stays pretty much put wherever we stop, just exploring the immediate vicinity.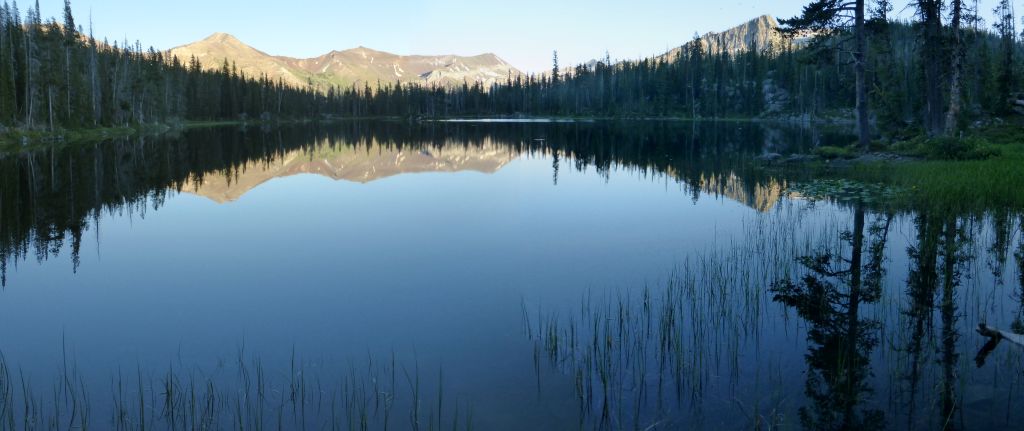 The east portion of Horseshoe Lake, looking south
Friday saw more people, including a boy scout group, enter the area. One group included a person from Belize and another from Germany, the latter his first time to America. You never know who you might meet out on the trail. Most were quite infatuated with Rowdy.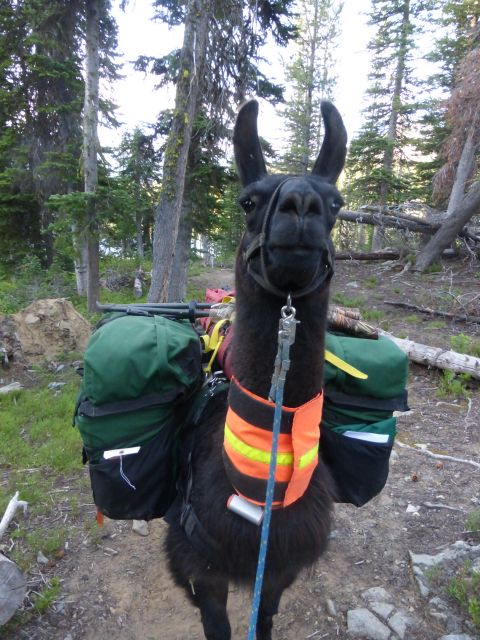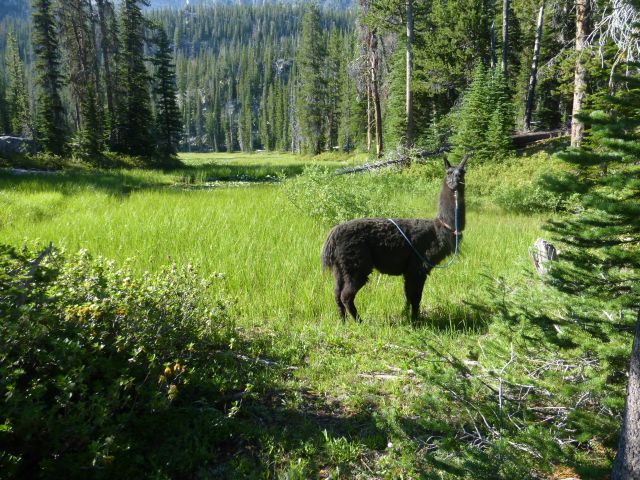 RRR Rowdy at work, and at rest
The distance to Unit Lake from Horseshoe is not very far, about a half mile as the crow flies, but getting there involved lots of up and down the rather steep slopes picking our way over, under and through countless obstacles, until it finally came into view.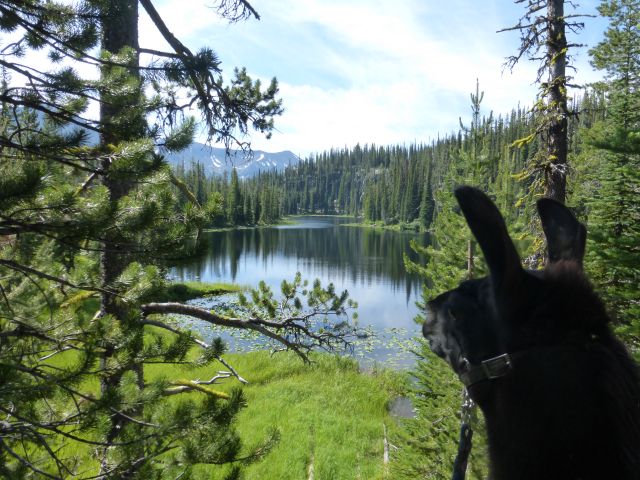 Unit Lake, looking south
At this point we still weren't there. We had to pick our way around more deadfall and circle up and around a rocky bluff and found a route down to the lake.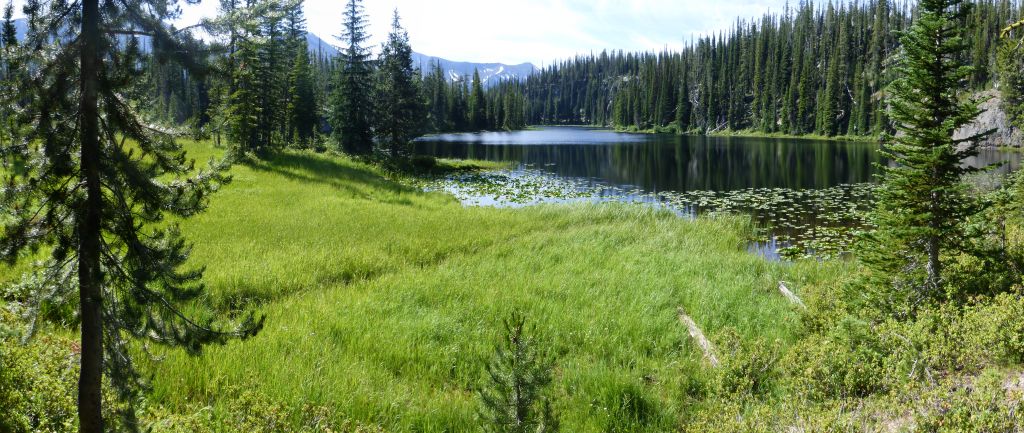 Unit Lake shoreline
There is a nice enough campsite near the lake, with grass nearby.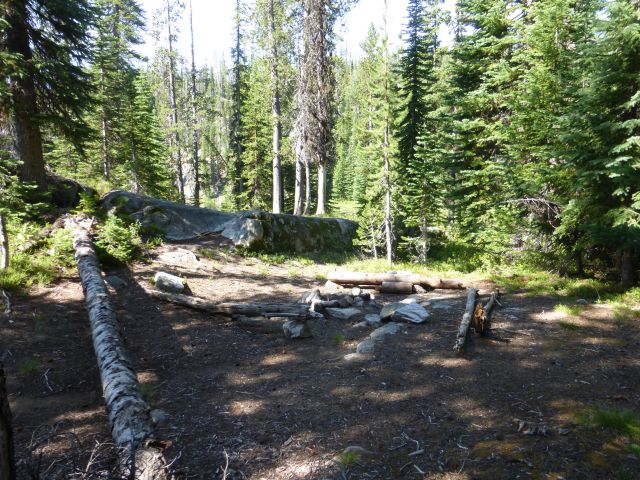 We packed out the next day, Saturday. I didn't want to get a late start out because I hadn't recorded the track in on the GPS and so the outbound route was strictly from memory. As complex as the route was Rowdy and I managed to retrace our path in reverse. There were lots of people hiking in and out that day but we missed most of them, and the trailhead parking was packed when we arrived, but the day was otherwise uneventful. In all, the hike was 23 miles.


Wide view of Unit Lake