Asher is the second offspring of Morning Sunshine, sired by Pepper Corn, born April 14, 2004 at 35 pounds -- about ten pounds over typical.
His birth was quite an ordeal. Sunshine was overdue and had appeared to be somewhat uncomfortable during that time. Early on a Monday morning she finally entered what appeared to be full labor, but nothing came of it and it subsided about 1pm. Concerned, we took her to the vet that evening for an exam. The baby did not show up well on ultrasound and palpation did not reveal the baby where it should be. The vet wasn't sure if that was because the baby was unusually small, or what. He was alive, as a push on the abdomen would often result in a kick back. With no clear answers, a call was made to WSU Pullman the following day, explaining the situation. They said to bring her in immediately. We transported her, along with Emmy (also due soon) for company. A more detailed exam there revealed the baby was transverse, and quite large. Being sideways, the local vet could not feel the expected head where it should have been. The prognosis wasn't good, as it was estimated that the baby was too large to have any room to move into the proper position for delivery. The baby's heart rate was at the bottom end of normal -- a low rate indicating duress. Cesarean delivery appeared to be the likely outcome, but since Sunshine didn't appear to at the moment be under serious duress, it was decided to monitor their situation for a while. She was observed overnight and into the next day, with periodic ultrasounds to monitor any change in the baby. As of mid-morning, there was no change at all. About 1pm, she was being prepped for a final exam. With still no change or a worsening of condition, it would confirm the need for Cesarean delivery that afternoon, which they were preparing for. Lo and behold, as she was being prepared, she went into labor and the baby began to emerge in normal presentation! Some assistance was rendered, as it was a very tight fit through the pelvis. Sunshine received some minor trauma from the delivery, but far less than a Cesarean would have inflicted.
The name "Asher" is a Hebrew name meaning "blessed" or "happy". He's matured into a big boy. By four years of age he's grown to 380 pounds of muscle and is quite tall.
See the pack trip pages for more pictures.
---
One day old:

Check out those curb feelers on this handsome boy


Where Sunshine found the room to carry him is a mystery

---
One week old

---
One month old, with mom

---
Nine weeks old

---
Seven months old

---
Two years old

---
Four years old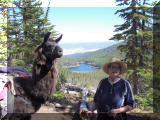 ---
---
Nine years old
Died suddenly from acute Bluetongue Virus
---