Memorial Day Weekend 2016
May 27-30, 2016. (Friday - Monday)
The Umtanum recreation site is located in the scenic Yakima River Canyon, 12 miles south of Ellensburg, Washington, which cuts through massive basalt cliffs and rolling desert hills. This canyon has been designated as a state scenic route and offers excellent wildlife viewing, fishing in a Blue Ribbon trout stream, family river rafting and camping.
A wooden and steel suspension footbridge crosses the Yakima River at this site, providing the only access to the west side of the river in the Yakima River Canyon. The west side of the river consists mainly of BLM and Washington Department of Fish and Wildlife managed lands.
For more details about the site, see Umtanum Creek2015
With the varied terrain and obstacles, this is an excellent llama training site. King Asher's Legado (2 years old) and Prince Robin Williams (under 2 years old) accompanied us for their first excursion. We were very pleased with their performance, completing a large number of first-time experiences without difficulty. They both took to it like naturals.
Without any prior towel training or other props, they saddled easily, just standing in place through the entire process. Both sported the smaller (but just like it's bigger cousin) Flaming Star "Trail Boss" pack system. Being young and their first time, they weren't carrying much weight -- just a few pounds in each pannier.
Of course the first significant obstacle is the suspension bridge crossing. It was rather windy so the bridge was swaying and bouncing. There is a narrow entry gate to the bridge to block other than foot traffic so normal sized panniers have to be removed and reattached to get onto the bridge landing.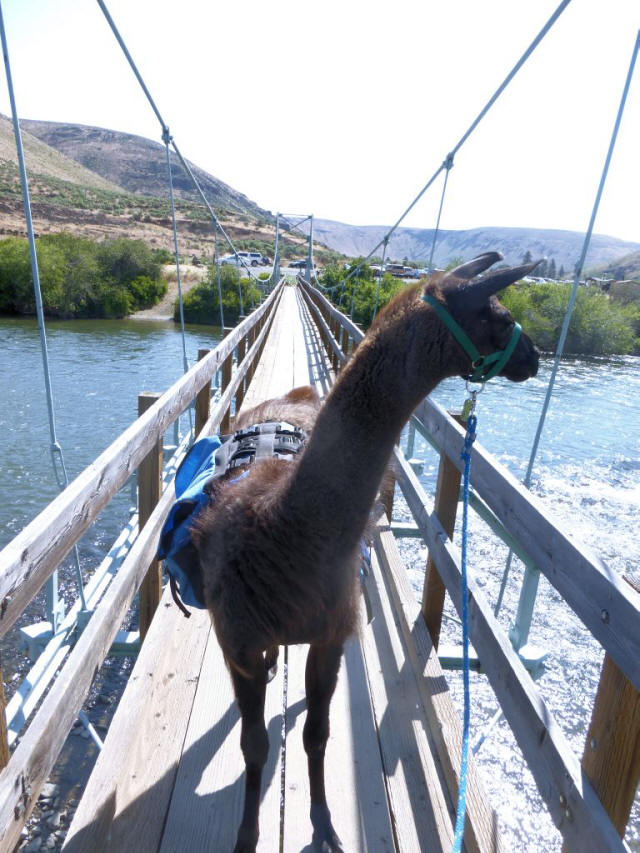 Water crossings, including thigh deep, were handled without much trepidation, even though they had never before seen open or moving water.
Of course brushy obstacles, including some thorny wild rose, was no problem.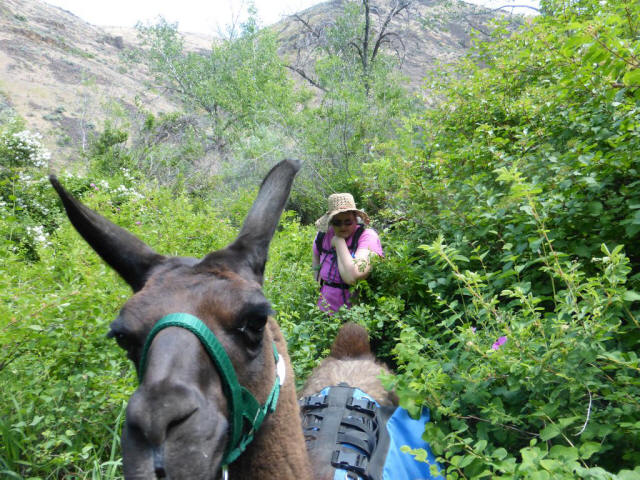 Tying out was no problem, either high line on the treks or on ground tether while at base camp. Figuring out ground tethers is a difficult challenge for llamas but neither of them managed to get into any serious trouble.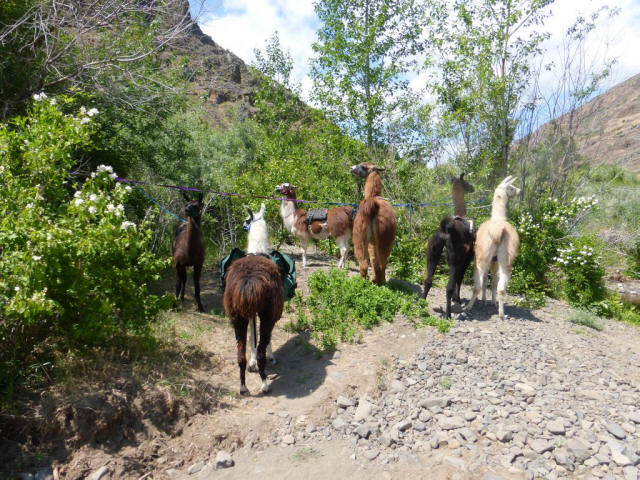 Of course the eleven llamas drew considerable attention wherever they went.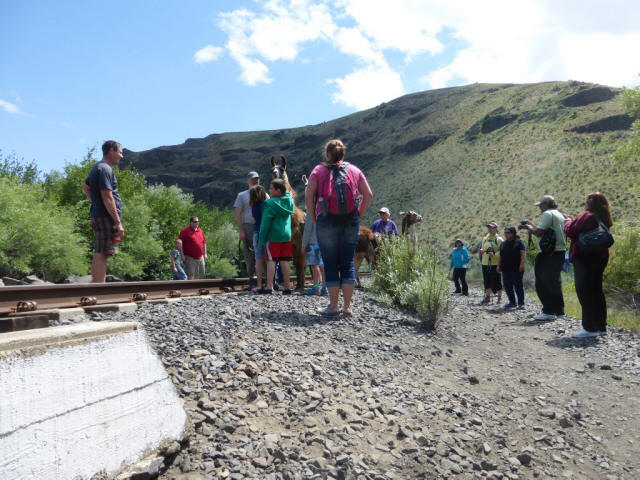 There were quite a few dogs around which were concerning to the llamas, providing one of the most difficult challenges of all. While tied out Robin did attack one large dog that was approaching Legado when Legado had managed to short-tie himself to a tree and was quite defenseless. None of the dogs acted aggressively and most were on leash or carried. It provided quite a few stepping off the trail exercises.
The boys also loaded onto the van for the first time without trouble, each taking about a minute to figure it out -- Robin first and then Legado, which is a high jump up with only the aid of a knee board. They rode comfortably with no fuss whatsoever -- getting along fabulously and valuing each other's company.
All-in-all our youngsters generally behaved as though they have been packing for years. It helped to have a couple of experienced packers to mentor the llamas-in-training, which could be emulated. Llamas learn very rapidly simply by seeing something demonstrated. That's the primary purpose of this training opportunity. For those that missed it this year, you missed out on a great event!