by Scott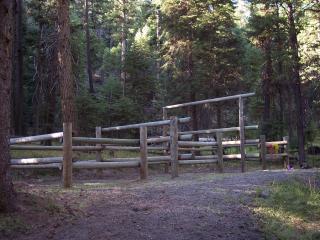 Horse Camp Corral (one of three)
A planned August 2008 trek to the Strawberry Wilderness in eastern Oregon was postponed a month to the second week of September due to several unplanned schedule conflicts. This hectic month provided few moments to prepare, but time away (finally) would be a welcome break from the endless work demands. The intent was to meet up with Julie and Joyce of Joyful Llama Ranch near the trailhead on Sunday -- the beginning of a week-long excursion. The van was packed with gear and King Asher on board, quite excited to be pulling out in the morning when a call was received from Joyce asking if we could bring an extra team llama to carry in more "stuff". Sure. I retrieved Llazlo to discover he had received a superficial but rather deep cut on his ear. This I treated but it was felt that he should stay home to have it looked after to make sure it healed properly and didn't become infected. Instead, this would be Pharaoh's first real pack trip (let alone teaming). Oh, well -- this is supposed to be an adventure, right? Some recent van repairs and modifications would also be on their initial test voyage. Since the van can't really take advantage of Interstate speeds without costing a fortune in gas, the GPS was programmed for a shorter, more direct route. This involved some backcountry, more scenic, driving -- some on remote dirt and gravel roads -- a bit more backcountry than intended. This went without mishap though -- arriving at the horse camp late afternoon. Departing at the same time, Joyce, Julie and her five year old daughter Jelly arrived early evening from Portland with their four llamas, Theresa, Kira, Ida, and Marley. Jelly has rode llamas on prior pack trips over the past three years but is getting too tall now (poking the llamas in the sides, which they find annoying) so walked the whole way this year.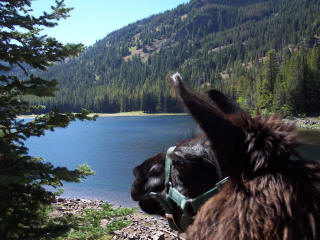 Approaching Strawberry Lake -- our lunch stop

A bit of background regarding the Strawberry Wilderness area (click the link for a diagram). Located south of Prairie City, it's one of the less well known wilderness areas of Oregon, often overshadowed by the larger Wallowas to the Northeast. At only 33,000 acre's originally (recently doubled in size), it's one of the state's smallest, but a tremendous amount of diversity is packed into this area. Very rugged, ranging from 3600' to over 9000' elevation. (Note: Our home elevation is about 600'.) Strawberry Lake, the largest of several lakes, is probably the most popular destination, residing towards the geographical center at 6200' elevation -- about 31 acres in size and 40' deep. Further in, at our planned base camp, is Little Strawberry Lake at 6900' elevation. This lake, like many of the others within the Wilderness, lies in a glacial cirque. One of the attractions of the Strawberries are the beautiful glacial U-shaped gorges. The Strawberry Range is one of the few places in the Pacific Northwest where five of Merriam's seven classic life zones can be found, all compressed into just a few miles of one another. Despite the basic dryness of the region, the forests include many pines such as ponderosa pine, western white pine, and lodgepole pine, while at higher elevations Douglas fir and white fir are found. At the highest elevations there are wonderful groves of Alpine fir, Engelmann spruce and Whitebark pine. A truly unusual (for the northwest) tree is also found-- the Mountain Mahogany, a scrubby but picturesque tree found in isolated groves on dry shoulders and benches at around 7,000 feet. A 2002 wildfire left scars, but even this is an interesting part of the landscape. Notable wildlife to be seen include Rocky Mountain elk, the reestablished California Bighorn Sheep, coyotes, bobcats, pine martens, black bear, mink, beaver, golden eagle, and of course mule deer. Cougar sightings have occurred. The lakes and streams have lots of Brook and Rainbow trout -- popular for fly or spinner fishing -- planted in the 1920's, packed in in tanks on horseback. Among this Paiute Indian country exists 125 miles of trails to hike.

The next morning after preparations we set out on a well groomed trail that runs from the Strawberry trail head to our lunch stop at Strawberry Lake. All the llamas traveled well. Following a nice meal of prepared-on-the-spot sandwiches from the cooler provisions, we set out for the next waypoint -- the picturesque Strawberry Falls.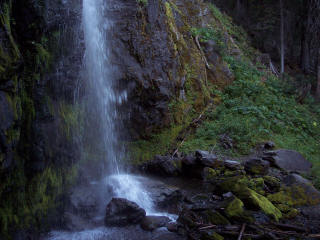 Part of Strawberry Falls
The trail passes near the falls and climbs above the falls via switchbacks and after crossing the stream soon intersects the trail to Little Strawberry lake. After a couple more stream crossings, the trail opens up to the lake with several camp spots available. Sitting at the base of one of the cirques, the area around the lake is quite sheltered. Base camp was established here for the next several days, with time spent at the lake and day hikes taken to various locations.
Early the first morning we were treated to the sight of a herd of mountain goats grazing the scree slope above. We counted ten in this group, including two juveniles. On subsequent days we spotted what appeared to be a lone male passing by, who spent mid-day resting on a ledge or in an adjacent shallow cave, visible in the mornings and evenings. Observation was aided by a 60X power telescope packed in.
One of the highlights of the trek was a hike to the top of Strawberry Mountain. As with the trail in to Little Strawberry, the route is virtually all uphill going in and all downhill going out. From Little Strawberry, one has to first hike down to intersect with the trail to the mountain, then resume the climb. The trail conditions are very good, but include stream and scree crossings, with some rather steep drop-offs alongside the trail in places.
Along the way is an old abandoned cabin located near a spring. Upon reaching the top of the mountain at over 9000', one can see for many miles in virtually all directions. Being a clear and sunny day, the view was truly spectacular. Asher and Pharaoh accompanied us to the top. The mountain actually has two peaks and one can easily walk between them.
Pharaoh, this being the first time on a real pack trip with us, did well on these hikes. He packed his load without protest, strung well and appeared to generally enjoy himself. There were some initial challenges with a preference to jump small streams instead of walk them -- not wanting to get his feet wet -- but some one-on-one training time, observing the other llamas, resulted in great progress during our time there. By the end of the week he was calmly walking through the streams. The one other odd tendency was when not strung to try and walk abreast instead of behind -- in perfect show ring positioning -- possibly a result of prior 4-H show experience. Asher had his first experience leading a string on these hikes instead of singly and handled it without any problem.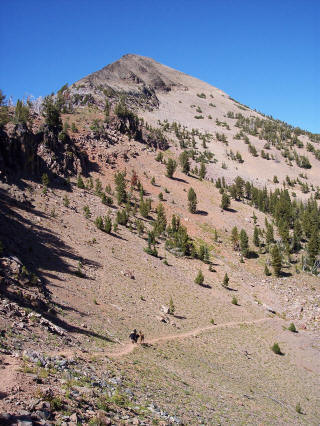 Looking North, climbing the trail to Strawberry Mountain
Day hikes were taken to other nearby locations. Time was spent exploring the surrounding terrain, sampling a variety of berries -- raspberries, currants, elderberries, gooseberries, etc. An inflatable rubber raft was launched onto the lake, also packed in. Daytime temperatures were in the low 80's (F) with night temperatures near freezing. The clear night sky provided many stars and satellites to observe. Deer routinely passed through camp. Plenty of wood is available for campfires in the established fire rings, which we took advantage of to grill steaks, lamb chops, pork chops, etc., that were freeze-packed in the coolers. The food was excellent and Joyce displayed her culinary skills. It's hard to say one is roughing it when accompanied by such llama luxuries and talent -- which is certainly nothing to complain about.
The trek out was relaxed and uneventful. Strawberry Lake was again the backdrop for another lunch break. While few people were seen during the week, several were encountered during the weekends. Some were locals, some not, with one couple visiting from the Carolinas. Nearly all were quite intrigued by the llamas, engaging in conversation about them, while the llamas waited patiently.
The trip home was also uneventful. The van ran fine the whole way and the boys behaved themselves. This was a fine example of a pack trip that went as planned with no mishaps or notable "lessons learned", though much was actually learned on the trip. We're looking forward to doing it again! For many more pictures, see WebShots.