What: 2012 Backcountry Llama Rendezvous and Drive-in.
When: June 22-24, 2012
Where: Tillamook Fairgrounds, Tillamook, Oregon & Bayocean Peninsula, Cape Meares, Oregon.
Why: To learn and educate others about llamas, and have fun doing so.
Last updated: Saturday, February 16, 2013 18:43

Click to view or print. Please post locally!>
---
About Bayocean Peninsula
Bayocean Peninsula is just north of Cape Meares, Oregon, a four mile strip of land separating Tillamook bay from the Pacific Ocean. This land is closed to vehicles.
There is a three mile hike to the camp area. It's beginners level, easy walking with no elevation change to speak of. Your supplies will need to be packed in. Extra pack llamas will be available for unaccompanied participants. This is a real backcountry rendezvous, in that your motorized vehicles will be left behind! The path to the camp area is accessible to carts, so drivers are welcome too.
It's a peaceful and quiet (except for the surf) site. Enjoy the sun, sand and surf. Beachcombing, clam hunting, and kite flying are enjoyable and relaxing pastimes in addition to the scheduled activities.
See Cape Meares 2011 for more details and photographs.
Rendezvous will commence at the Tillamook County Fairgrounds in nearby Tillamook, Oregon on Friday. We will caravan to Cape Meares on Saturday for the rendezvous campout on Bayocean Peninsula.
There are showers and restroom at the south side of the fairgrounds within walking distance, available for use. Water must be carried to the camp area from the restroom area.
Bayocean has a vault toilet and a small freshwater pond (filtering or boiling your water is recommended) located bay side in the main camping area.
A resupply boat will be available, if needed.
From a May 15, 2012 Press Release: An overwhelming percentage of visitors to Cape Meares National Wildlife Refuge and State Scenic Viewpoint (Cape Meares) in 2010 and 2011 were favorably impressed with its recreational opportunities and services according to a peer-reviewed government survey released today. Some 90 percent of respondents gave consistent high marks to all facets of their outdoor experience. The survey was commissioned by the U.S. Fish and Wildlife Service and designed, conducted, and analyzed by researchers with the U.S. Geological Survey. It evaluated responses from 205 visitors surveyed at Cape Meares between July 2010 and November 2011. An overwhelming majority of visitors (88%) lived more than 50 miles from Cape Meares.
Some survey participants volunteered enthusiastic comments, "Cape Meares is unique because of the opportunity to see migrating gray whales in the spring and winter; to learn about the history of the lighthouse; to see what the largest Sitka spruce in the state looks like; to wonder about the mystery of the Octopus Tree; to experience the rocky Oregon coast on a clear day; and, maybe to catch sight of a Peregrine falcon." The most popular outdoor activities that visitors engaged in at Cape Meares were whale watching, photography, bird watching and hiking.
---
Activities
As usual, this a combined event. In addition to backcountry llama packers we invite and encourage llama drivers to attend as well and bring their carts.
Of course newcomers/ investigators are encouraged to attend -- the idea is to bring together all aficionados (and interested parties) of the working llama to learn and have fun. Youth are encouraged to attend. We're again inviting 4H and FFA kids (with their llamas). Most of these youth have show experience but few of them have actual exposure to llama packing or driving. This is a chance for actual hands-on education about what can be done with llamas as well as gaining more handling experience, strengthening their relationship with their llama. This is a chance for experienced llama handlers to pass their extensive llama knowledge to the younger generation.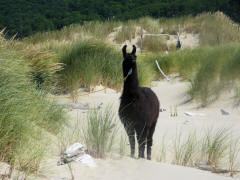 The llama hike on Bayocean peninsula is a good opportunity to get some practice with your llamas so new llamas can see other more experienced llamas at work. Llamas do learn a great deal just from observation. If they are adequately desensitized to wearing packing equipment it's suggested they be in their packing regalia for the trek.
The PLTA Pack Trials are being separated from rendezvous this year. This provides a more relaxed schedule and increased focus on the seminars and hands-on interaction at rendezvous. More information about the pack trial will be provided later.
As with last year the focus will be on Introduction to Packing with Llamas. Plan on an overnight campout on Saturday as a complete learning experience. First-time llama packers welcome! Backpackers welcome! Beach comb and enjoy the sun and sand with the llamas! Clam hunting is allowed with permit.
Several experienced packers and their llamas will be part of this beginners pack trip to provide assistance and hands-on instruction. This will not be an endurance test for your llamas, but simply a short trip containing all the elements of a complete pack trip. There will be ample time to prepare, hike and set up camp at a relaxed pace. Your llamas should be basic pack trained, i.e., comfortable with wearing packs and being ground tied. This event provides an excellent environment for experienced llama packers to conduct training for their inexperienced llamas.
Some of us will be camping for a few days, so stay as long as you like. Bring ample supplies, as once you are there you may not want to leave.
Tentative Schedule*:
Friday June 22nd

| | |
| --- | --- |
| 3:30 PM | Seminar: Basic Llama Packing, Gear, What to Pack, Questions & Answers |
| 4:30 PM | Seminar: Dutch Oven (Debra Langley-Boyer) |
| 6 PM | Pot luck dinner with Dutch oven sampling (Debra Langley-Boyer) |
| 6:30 PM | Video: Safe Methods of Tying Out Llamas (Tentative) |
| 7 PM | Camelid Theater! Llama trekking on the little (this time) screen. |
Saturday June 23rd

| | |
| --- | --- |
| 7 – 8 AM | Breakfast |
| 8:00 AM | Seminar: Safe Methods of Tying Out Llamas (Gwen Ingram video - tentative) |
| 10:00 AM | Drive to Cape Meares for the Beginners Overnight Pack Trip -- pack gear highly recommended as part of handler training. Instruction provided throughout, as needed. |
| 11 AM | Group Photo at trailhead |
| 12 PM | Camp Setup |
| 12 PM | Lunch |
| | Explore, beachcomb, etc. |
| 2 PM | Seminar: DNA Testing Study Results (Bob Schimpf) |
| 3 PM | Seminar: Identification of Toxic Plants your Llamas may Encounter on the Trail or Meadow. (Lisa Wolf, botanist) |
| 4:00 PM | Seminar: Camp Cooking (Debra Langley-Boyer) |
| 6 PM | Camp Dinner (see below) |
Sunday June 24th

| | |
| --- | --- |
| 7:30 – 8:30 AM | Breakfast |
| 9 AM – | Driving, Hiking, Exploring, Q&A |
| | |
*All times are approximate and subject to change. Participants are free to join the scheduled events above or groups may elect to take advantage of alternate activities. Spontaneous activities may break out at any time. Note: There may be other activities going on at Tillamook Fairgrounds during the early evening and visitors are expected from the fairgrounds, including fair board members.
Primary Sponsors: Backcountry Llama Association and Rattlesnake Ridge Ranch.
What to Bring
Please bring a comfortable chair and your own camping and packing gear. Dinners will be pot luck. You are encouraged to share a favorite on-the-pack-trail dish (or side dish) and recipes.
Llama pack gear. Bring your driving equipment. The weather is expected to be about 70F with sunshine, so bring your hats, sunglasses and cameras. Forecast low is 50F at night, so some layered warm clothing is recommended. Precipitation normally ends before late June but some rain gear or umbrella is prudent as coastline is always unpredictable. See the forecast. The sandy ground should be generally dry. Tent stakes suitable for sand are advised.
The llamas will have a grassy area available at fairgrounds and Bayocean, but bring hay/feed. A scout to the meadow area on the peninsula (bay side) reports lupine and scotch broom growing among the grass, both of which are toxic. A professional botanist, Lisa, will be present to provide an expert assessment upon our arrival. This is the primary camp area where most of us will be camping as it has a vault toilet and is closest to the sole source of fresh water, which is a small sheltered pond, located at 45.554145 -123.938081.
Tethers, or portable corrals for the fairgrounds. Water buckets and canteen/coolers. Water jugs for the fairgrounds (the potable water outlet is some distance away). Water filter for the pack trip. Note that with the water source on the bay side, if you prefer to camp sea side plan to pack some water. What we typically do is camp on the bay side, but make a short day hike (about 1200 yards) to the sea side with the llamas packing the day's supplies. We recommend that beginners plan on that.
Friday night dinner at the fairgrounds is potluck this year. There will be some prepared foods available but potluck contributions ensure variety and plenty for all. Participation is optional depending on your schedule, etc.
Since the Saturday night campout focus is a mentored beginners llama trek, all the participant groups are expected to pack as though they were on their own and be able to prepare their own camp fare. However, to make the experience more educational we'd like it to be a shared experience. We encourage each group to share what they do for camp cuisine so we can all learn from one another. With llama packing the meal preparation ranges from backpackers fare to RV camping, depending on many factors. We'd like people to experience the range of possibilities. So Saturday's dinner is being promoted as a potluck affair also, or at least demonstration (show-and-tell), but folks are free to do whatever suits them.

Have an innovative pack gear item or technique to share? Please be prepared to do so! Let us know and we'll add you to the demos.
What to Leave Behind
Important: Practice Leave no Trace principles insofar as practical. Please pick up any pellets and bits of hay before you leave and dispose of all garbage. It's important to leave the camp area clean.
What to Order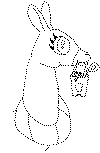 Commemorative T-shirts $14
Crew Neck Sweatshirts $28
Hooded Pullover Sweatshirts $30
Get your beach llama shirt. Orders must be in by June 7 to get them made before the event.
Registration Fees -- Registration Form
Costs are $20 per adult for the entire weekend. Kids ages 10-18 are $5 for the weekend. Kids under 10 are free. Opt. family rate $50. Group discounts available. Members of 4-H or FFA, 50% off. Discounts also available for seminar and activity organizers. Inquire. Fees cover camping, food, attendance and participation in all events. Please have registration (and T-shirt, etc. orders) in by Friday, 1 June 2012. After that date fees increase to $25 for adults.
Please make checks payable to: c/o Rattlesnake Ridge Ranch; 350 Tracie Road; Pasco, WA 99301-8895. Registration submissions are also accepted via E-mail attachment and PayPal.
Directions
Fairgrounds are at 4603 3rd Street, in the eastern outskirts of Tillamook, OR. However, we will be camping south of the back gate located off Brookfield Ave. in a grassy field surrounded by trees and brush.
See satellite view of fairgrounds.
Saturday we will caravan to the parking area at Bayocean Peninsula.
See satellite view of Bayocean Peninsula.