A scouting trip was made to Main Eagle to check on trail conditions. Due to the well above average snowpack and unseasonably cool Spring (including a snow storm a couple weeks ago), Eagle Meadows is still covered in snow and consequently the grass hasn't come in yet. This is very unusual. Trail conditions also aren't good as no maintenance has yet been performed. Everything in northern, western and southern Wallowas above 6000 feet or so is still covered in snow. All the eastern trailheads are open, however.
As a result, the trip location is being changed to Indian Crossing trailhead on the Imnaha. This is located on the eastern side of the Wallowas, 160 driving miles from Emigrant (3 hours and 15 minutes according to Mapquest). Wallowa Llamas will be relocating their pack trip there and will be coming out on Sunday. Camping is available at the trailhead and at a few points along the trail, though conditions there are not yet optimal either. Being cooler and wetter (though this weekend is forecast to be 15F above average), expect mosquitoes. There is some deadfall not yet cleared with detours around them. Trailhead elevation is lower at 4600 feet. The trail is a very gradual climb of about a thousand feet in 7 miles, following the Imnaha River. There are some optional steep climbs out of the valley. Notable sights along the trail include Imnaha Falls and Blue Hole.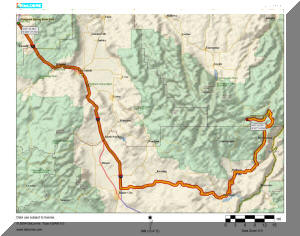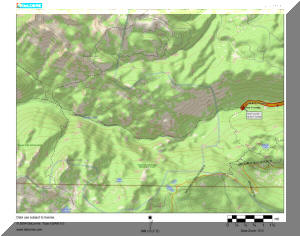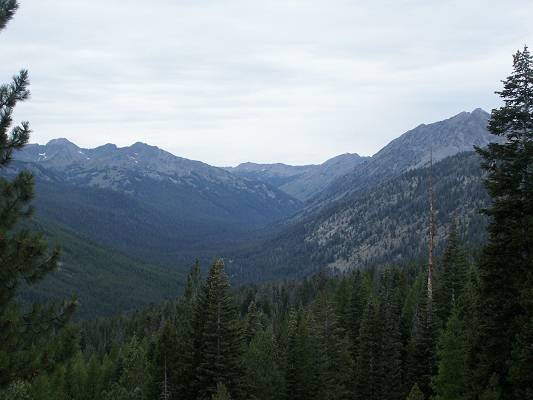 View up the Imnaha
Directions to trailhead: South from Joseph or North from Halfway on Wallowa Mountain Loop Road (Forest Road 39), turn southwest onto Upper Imnaha River Road (Forest Road 3960). Indian Crossing is at the end of the road in 9.5 miles. There are stock facilities and restrooms at the trailhead.
GPS Coordinates: 45 06.730N 117 07.150W
The trail heads west. There is a short wooden bridge at 2 miles, and a few yards further is the Twin Lakes trail 1874 to the left. Blue Hole is a short distance on that trail. Continue straight after checking out Blue Hole. There are campsites at Blue Hole. After Blue Hole the trail climbs up a gully for 0.3 mile. At the top it traverses a talus slope. The river cuts through a steep canyon on the left. After crossing the .25 mile wide talus slope, the trail climbs several switchbacks and crosses three small streams in 0.8 mile to an outcropping. The next outcropping is in 1.1 miles. There is a campsite below the trail on the left 0.4 miles past this outcropping. Another 1/3 mile is an unmarked junction to the 100 yard path to Imnaha Falls, which can be seen on the left shortly before reaching the path. A half mile further is the junction to Deadman Canyon trail 1869, which goes left to cross the river. There is another campsite near this junction. A hundred fifty yards further is another junction with the Lick Creek trail 1809 which heads off to the right. Another 600 yards is the junction with the North Fork Imnaha River trail 1814. This junction is 6.8 miles from Indian Crossing. There is camping space along this 600 yard stretch with grazing grass by the river.
---
Postponed:
Trail Description to Eagle Meadows from Boulder Park Trailhead

A pack trip is planned in conjunction with the 2008 Backcountry Llama Rendezvous. The guided group(s) will be leaving Sunday or Monday AM (yet to be determined -- possibly both). The plan is to camp for about three days, but folks may arrive and leave whenever they like. Plan accordingly. The guided group(s) will contain folks experienced with this particular hike, but if you just follow the directions below you'll find your way to the camp area.
From Emigrant Springs, the trailhead is about a 2 ½-hour drive. Take I-84 east to the Highway 203 exit just past LaGrande (approximately 29 miles). Drive approximately 66 miles to Union. From Union, Oregon, drive south on Highway 207 for another 19.5 miles to Medical Springs. Along the way, you will see a sign for a left turn that says Eagle Creek and Boulder Park 21. Do not take this road! It's extremely rough. Drive 5.8 miles further to Medical Springs. From Medical Springs, it's 20 miles to Boulder Park Trailhead. The road is two-lane gravel in good condition. There is a pit toilet, a creek from which to filter water, and plenty of room to park trailers. A PNW parking pass is required. It's highly recommended you purchase this ahead of time. We get the annual pass -- good for a year.
In order to hike to Eagle Meadows well before dark, it is suggested we leave Emigrant Springs by 9:30 a.m. Sharing rides is encouraged. Trailers, etc., may be left parked in the lower paved lot (near the horse camp) and picked up after the pack trip.
Note: Wilderness rules apply. Individual groups are limited in size to 12 persons and/or 18 llamas. Larger groups will be required to segregate and maintain separation on the trails and campsites. The base camp area we will be camping in has three segregated camp areas. There are also campsites further on at the lakes.
The overall trail rating is intermediate or moderate. There is a lot of decomposed granite in the trail. It is mandatory that you and your llamas be conditioned and your llama's foot pads be tough enough to withstand the granite, as it will gradually abrade the pads.
Elevation gain to base camp: Approximately 1000 ft., gradual
Distance to base camp: 4.5 miles (7.25 kilometer)
The most difficult parts of the trail are creek crossings with large rocks and fallen trees and some rough parts of the trail where boulders have to be climbed over or picked through. There are several creek crossings, where with luck you can step from rock to rock to cross without changing shoes, but bring some river shoes or waterproof high top hiking boots, just to be comfortable in all situations. The water levels may be higher than usual this year due to good snowpack and a later than usual melt. The waterfalls should be pretty impressive. Plan for the camp meadows to be wetter than usual.
At a little over a mile from the trailhead, the trail narrows to about 18' wide with shoulder high vegetation with possibly a few stinging nettles mixed in. You may want to wear long sleeves and keep your hands in front of you for this short stretch.
Following that, there is a rocky path where you will have to choose each step carefully.
At approximately 3 miles from the trailhead, there is a great view of the creek below just 30' or so off to the left of the trail.
There is intermittent shade along most of the trail for frequent rest stops.
At Eagle Meadow on the right in approximately another 1.5 miles there is plenty of room to spread out but some parts may contain lupine, so care will have to be taken when staking llamas. The best grazing areas may not be immediately adjacent to the best spots to pitch a tent. The area of the meadow adjacent to the creek may be marshy, but plenty of dry space should be available. Last year at this time the mosquitoes, etc., were not at all bothersome, which is typical for the Wallowas, but be sure to bring bug juice for you and your llama, just in case. Ticks are also not common usually but may be encountered, so having some avermectin (Ivomec) or topical cyfluthrin (CyLence) on board your llama may be a prudent precaution. If administered prior to rendezvous it should remain effective for about three weeks. Alternately, BugBand spray repellant is effective too but lasts only a day.
From Eagle Meadow there are numerous trails to hike, most with lakes as the destination, offering lots of day hike from base camp or overnight high country camping options.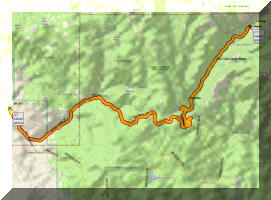 Click to see a route map of Hwy 203 from Medical Springs to the trailhead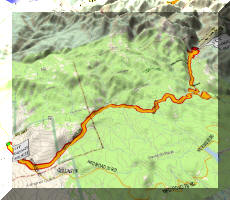 Click to see a 3D perspective of the route to the trailhead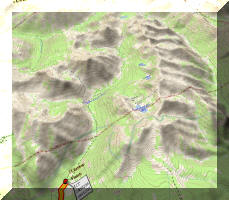 Click to see the hiking area. Eagle lake is at the very upper crest of the valley.
We will camp in the meadowed valley below Bear and Culver lakes, located in the center of the preceding map.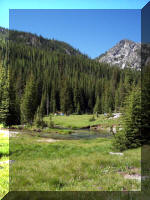 Click to see camp area.
From the campsite, day hikes can be made to Bear, Culver and/or Lookingglass lakes (rather strenuous, but worth it), or to Eagle and/or Cached lakes (moderate), or to Copper Creek Falls (relatively easy). For the very ambitious that don't like to stay put too long and want to really get away from everyone, the loop around Cached and Heart Lakes and Copper Creek Falls is available (difficult) for an overnight camp trek.
---
For more information and pictures of the hike, see South Eaglecap 07 and South Eaglecap 05
---