A late September scouting trip by just Scott was made to explore the North Fork Catherine Creek region of the western Wallowas, Oregon. The North Fork Catherine Creek, Middle Fork Catherine Creek, Meadow Mountain, China Ridge and Squaw Creek trails were covered -- twenty-one miles and a cumulative 5400' elevation gain over three days.
Asher did all the packing duty.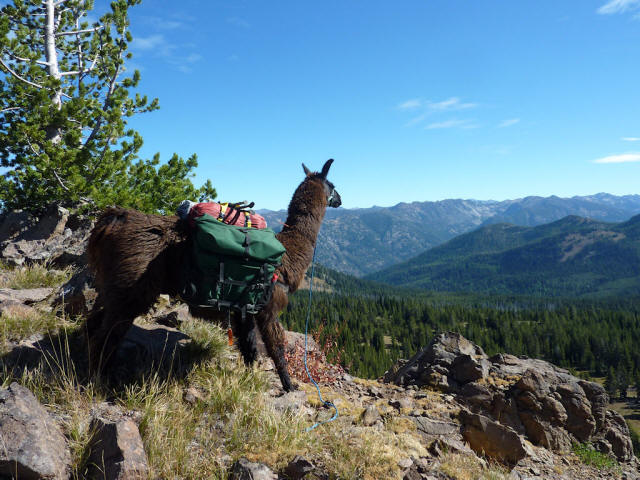 Asher atop Meadow Mountain. It was a steep rock scramble to get to this point, though not as bad as China Cap. The weather was nice but as is common it was windy on top.
click here to see the> Panorama from Meadow Mountain
(MS Silverlight required)
With the exception of the first part of the North Fork Catherine Creek trail this area is designated wilderness. I can report that it is heavily travelled in September. Deer hunting parties were numerous, with outfitter horse/mule pack strings hauling the gear, and many private mounted parties practicing recreational riding. These trains go around the numerous deadfall obstacles that appear across the trail, creating a braided network of roto-tilled trails in places. Leave-no-trace practices are not evident, with heavy trail and camp area damage observed. Dogs were observed to be running loose on the trail. Adding insult, this region is heavily grazed by cattle. The many meadows throughout the forest are grazed to the ground and cow pies are everywhere, including in the established campsites where tents would be pitched. Despite the wilderness designation, one of the hunting parties was observed to be using a chain saw to cut firewood.
While the Catherine Creek Meadow cabin is a great asset, the scenery good, the hike challenging, this route does not feel like wilderness. With the heavy human and stock traffic, plus overgrazing mowing down all the grass, it is relatively devoid of wildlife aside from cows, though one coyote was observed. Quite the disappointment in that regard.