SM Santana
Key Attributes
His sire, Mountain Monarch, is blood tested and is a grandson of Dr. Zhivago and great grandson of Willie K from Bolivia.
His dam, SM Tizzie is the daughter of SM Cuvee, also blood tested.
A regal mountain llama with majestic presentation.
Extremely gentle and non-aggressive, yet a diligent and active peacemaker. Never one to start a fight but never one to shy away from an aggressive male, Santana actively guards and protects the young males from the dominant alpha male. He also plays with and tutors the youngsters.
His long, fine wool is great for spinning and weaving. Solid white color provides versatility for dying to desired colors.
Registered with the International Llama Registry.
Born March 30, 1995
Died November 26, 2006. He is sorely missed.
More below, and at this link.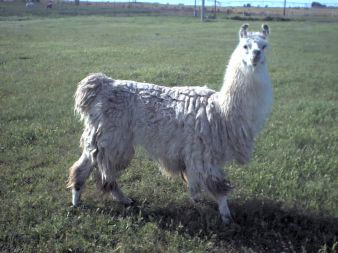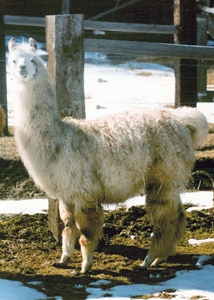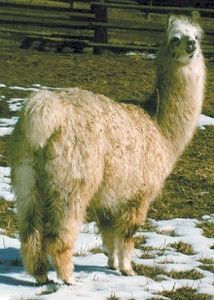 ---

Santana, though an intact male, was blessed with the most gentle of dispositions. Meek, but definitely not weak, in both body and spirit. Never one to initiate a confrontation, he was nevertheless a staunch protector of those that could not protect themselves, standing up to bullies and aggressors, defending himself and others.
Thanksgiving day, 2006, Santana somehow received a shattered rear leg, cause unknown. We were not home when it happened. We gingerly transported him to the Veterinary Hospital in our llama bus as no farm calls were available, but it was ultimately diagnosed as irreparable without serious debilitation. We made the extremely difficult decision to end his suffering there.
He is now as free as a bird and can pronk from star to star whenever he wants, and as much as it pains us, we trust his sweet spirit can spend the rest of eternity free from pain and distress.
But the meek shall inherit the earth; and shall delight themselves in the abundance of peace. -- Psalms

to be no brawlers, but gentle, shewing all meekness unto all -- Titus