What: 2013 Backcountry Llama Rendezvous and Drive-in.
When: July 19-21, 2013
Where: South Steens Campground, Oregon. Burns BLM district. SE of Frenchglen, OR (population 12).
Why: To learn and educate others about llamas, and have fun doing so.
Last updated: Sunday, February 02, 2014 19:21

Click to view or print. Please post locally!>
---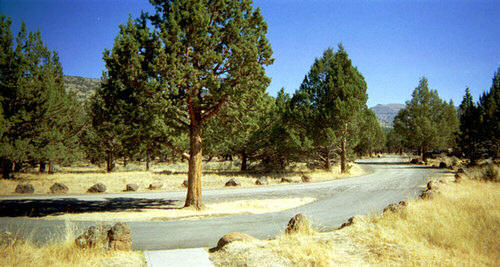 Years past have seen us in heavily forested mountains and last year on ocean beaches. We continue the inclination to vary the location and environment in the PNW to keep things fresh. The setting this year is in the starkly beautiful and wide open spaces of the inland shrub-steppe wilderness, with it's rugged geology, juniper forests, and cottonwood and aspen groves.
About South Steens Campground
South Steens Campground, elevation 5300', is located west of the 9733' Steens Mountain, approximately 18 miles from Highway 205 via the south intersection with Steens Mountain Loop Road. Visitors will find picnic tables and grills at 36 campsites amid juniper and sage. A stream runs through it and consists of two campgrounds separated by a meadow about 50 yards wide. One consists of 21 sites nicely spread through the junipers. The other is an equestrian camp having 15 sites, all of which have tie racks and five of which have pipe corrals large enough for several horses. There is potable water at a well house in each campground and clean pit toilets. RV hookups are available for RV's up to 35'. The access road beyond the campground was upgraded in 2012, now wide and smooth. It's worth noting that this camp is about 100 miles from any significant amenities.
The Campground is close to the Historic Riddle Brothers Ranch and several hiking trails. Alvord Hot Springs is about three hours away.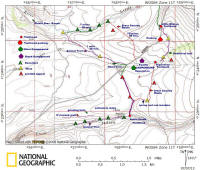 Numerous spike camps are about a mile from the central campground, providing more seclusion if desired, or opportunities for beginner overnight pack trip(s). All but one is along a flowing stream. Good fishing is available nearby. Packing in Little Blitzen Gorge and Big Indian Gorge is within reach of camp. Wild mustang herds are nearby, as is a resident herd of bighorn sheep. Cattle are no longer allowed in this area. Click on the map to the right for details.
About Steens Mountain
Running between South Steens Campground and Steens Mountain are three parallel gorges, Little Indian (south), Big Indian, and Little Blitzen (north). Steens Mountain is the largest fault-block mountain in the northern Great Basin, forming the western border of the Alvord desert at about 4200'. See Summit Post for details and photographs (gallery at bottom). The summit of the mountain is accessible, providing a spectacular view. The east side of the mountain drops off in 5500' cliffs overlooking the playa. The ridge just north of the summit is actually accessible by vehicle (though it's a steep climb), but the surrounding area is only accessible on foot. There is a trail to the summit.
The Burns Llama Trailblazers are hosting this year's rendezvous, having many years of experience exploring this region. See their website for more details about the location and opportunities for adventure.
---
Activities
As usual, this a combined event. In addition to backcountry llama packers we invite and encourage llama drivers to attend as well and bring their carts.
Of course newcomers/ investigators are encouraged to attend -- the idea is to bring together all aficionados (and interested parties) of the working llama to learn and have fun. Youth are encouraged to attend. We're again inviting 4H and FFA kids (with their llamas). Most of these youth have show experience but few of them have actual exposure to llama packing or driving. This is a chance for actual hands-on education about what can be done with llamas as well as gaining more handling experience, strengthening their relationship with their llama. This is a chance for experienced llama handlers to pass their extensive llama knowledge to the younger generation.
The spike camps, tours and poker run provide good opportunities to get some practice with your llamas. Llamas do learn a great deal just from observation. If they are adequately desensitized to wearing packing equipment it's suggested they be in their packing regalia for the hikes.
The PLTA Pack Trials are being separated from rendezvous this year. This provides a more relaxed schedule and increased focus on the seminars and hands-on interaction at rendezvous. More information about the pack trial will be provided later.
As with last year the focus will be on Introduction to Packing with Llamas. First-time llama packers welcome! Backpackers welcome!
Several experienced packers and their llamas will be available to provide assistance and hands-on instruction. Spike camp treks will not be an endurance test for your llamas, but simply a short trip containing all the elements of a complete pack trip. There will be ample time to prepare, hike and set up camp at a relaxed pace. Your llamas should be basic pack trained, i.e., comfortable with wearing packs and being ground tied. This event provides an excellent environment for experienced llama packers to conduct training for their inexperienced llamas.
Following rendezvous many of us will be packing into the wilderness and camping for a few days, so stay as long as you like! There are several suggested routes ranging from easy to extreme -- your choice. See the details at Burns Llama Trailblazers.
| | |
| --- | --- |
| | |
| Big Indian Gorge looking East (Steens Mt. in background) | Big Indian Trail |
Tentative Schedule*:
Friday July 19th

| | |
| --- | --- |
| 5 PM | Introductions |
| 5:30 PM | Scout trip report, packing opportunities and tour sign-ups (Lisa Wolf) |
| 6 PM | Dinner (provided, see below) |
Saturday July 20th

7 – 8 AM
Breakfast (provided)
9:00 AM
Llama Trek Adventure Tours or Llama Hike to spike camps (1 mile each way)

Toxic and Non-native Plants -- Little Blitzen River (Caroline + Lisa Wolf - Botanist) -- 30 minute hike one way to river
Followed by:
History, part 1 -- Riddle Brothers Ranch -- 60+ minute hike one way to Ranch by trail. Pack lunch at ranch.
Alternate Route: Accessible by cart by taking the road to the ranch.

Or:

Toxic and Non-native Plants -- Little Blitzen River (Caroline + Lisa Wolf - Botanist) -- 30 minute hike one way to river
Followed by:
Geology -- Slope north of Little Blitzen (Rick Wells - BLM Geologist) -- 40 minute hike one way to slope
Plus:
Archeology -- Slope north of Little Blitzen (Carla Bernside - Archeologist) -- Pack lunch break along Little Blitzen

You have a choice between the two tours above. Each is limited to 12 people.

~12 PM
Lunch in campground for those not on tour
2:00 PM
Llama Trek Adventure Tours or Llama Hike to spike camps (1 mile each way)

Wildlife (Guy Sheeter) -- In camp, opt. route determined by scouting area beforehand

4:00 PM
Seminar: Packer Health -- Pack Llama Nutrition and Conditioning (Becky Cunningham)
5:00 PM
Informal seminar: Dutch oven cornbread (Debra-Langley Boyer)
6 PM
Camp Dinner, potluck, Camelid Theater
7 PM
Llama Trek Adventure Tours cont.

History, part 2 -- Riddle Brothers Ranch (Dick Jenkins) -- in-camp presentation

8 PM
Campfire
Sunday July 21st

| | |
| --- | --- |
| 7 – 8 AM | Breakfast (provided) |
| 8:00 AM | Driving, Hiking, Exploring, Q&A |
| 9:00 AM | Seminar: How to Select Basic/Advanced Obstacles for Pack Trials and Obstacle Run-through (Anne Sheeter + Scott Noga) |
| 12 PM | Lunch |
| 1 PM | Obstacle Course Practice - basic and advanced (Anne Sheeter + Scott Noga) |
| 3:30 PM | Seminar: Basic Llama Packing - What to Pack (Scott Noga) |
| 4:00 PM | Seminar: Basic Llama Packing - How to Pack and Load Llamas (Joyce O'Haloran) |
| 5:00 PM | Seminar: Wilderness Survival Preparedness - Ten Essential Items (Debra-Langley Boyer) |
| 6:00 PM | Camp Dinner, potluck, campfire and "Train Wreck Testaments" and "Tall Tale Testaments" |
Monday July 22nd

| | |
| --- | --- |
| 7:30 – 8:30 AM | Breakfast |
| 9 AM – | Driving, Hiking, Exploring, Q&A |
| 10 AM – | Steens Pack Trip Monday - Wednesday (or however long you'd like to stay, your choice) |
*All times are approximate and subject to change. Participants are free to join the scheduled events above or groups may elect to take advantage of alternate activities. Spontaneous activities may break out at any time.
Primary Sponsors: Backcountry Llama Association and Rattlesnake Ridge Ranch. Hosted this year by Burns Llama Trailblazers.
What to Bring
Please bring a comfortable chair and your own camping and packing gear. Saturday dinner will be pot luck. You are encouraged to share a favorite on-the-pack-trail dish (or side dish) and recipes.
Llama pack gear. Bring your driving equipment. Local roads around camp are suitable for driving. The weather is expected to be about 80F with sunshine, so bring your hats, sunglasses and cameras. Forecast low is in the 60's at night, so some layered warm clothing is recommended. Precipitation normally ends before late June but some rain gear or umbrella is prudent as this region is always unpredictable. No rain is in the forecast. Winds can arise unexpectedly. See the forecast (at lower elevation). The ground should be dry.
The llamas will have some dry grass available at and around the campgrounds but bring weed-free hay or pelletized feed. Only pelletized feed should be packed into the wilderness. Llamas should be groomed to remove any weed seeds.
Nearby equestrian corrals are available on a first come, first serve basis. Water buckets and canteen/coolers. Water jugs for the campgrounds. Water filter for the pack trip.
This terrain is rocky in many places, so take that into consideration when it comes to stake-outs and tents. Also, your llamas should have tough enough feet to handle rocky terrain if traveling cross country.
It's very important to have navigation gear and maps of the area if hiking. Much of the hiking is cross country rather than on maintained trails. This includes the route to some of the spike camps. Some BLM Field Maps will be available at the main campground (Sportsman Series: Baca Lake). There are prominent landmarks and terrain so it's hard to get really lost with a map, but some basic navigation skills are necessary.
Binoculars are suggested, particularly for the wildlife tour.
Friday night dinner is provided. The menu includes porcupine meatballs, salad and rolls. Potluck contributions are welcome for variety.
Saturday and Sunday breakfasts are provided.
Saturday night dinner is potluck. A Dutch Oven cook-off has been suggested. Debby is doing corn bread. We encourage each group to share what they do for camp cuisine so we can all learn from one another. With llama packing the meal preparation ranges from backpackers fare to RV camping, depending on many factors. We'd like people to experience the range of possibilities. So Saturday's dinner is being promoted as a potluck affair along with demonstration (show-and-tell), but folks are free to do whatever suits them.

Have an innovative pack gear item or technique to share? Please be prepared to do so! Let us know and we'll add you to the demos.
What to Leave Behind
Important: Practice Leave no Trace principles insofar as practical. Please pick up any pellets and bits of hay before you leave and dispose of all garbage. It's important to leave the camp area clean.
Items to Note:
Fuel is available at Frenchglen. Unleaded is $4.699 and diesel is $4.999. The low price in Burns is $3.899.
The trail into Big Indian is deep in sagebrush and will shred naked knees. Long pants are recommended, as they are for any cross-country travel in the area.
The creeks are all easily fordable but are not rock hops. Feet will have to get wet. Sandals or sneakers would be useful.
As of July 15 campfires are not allowed in areas outside of campgrounds due to dry conditions.
The Steens Loop Road is now open all the way through.
Bug repellant may be needed along creeks and in the canyons.
This is high altitude with lots of sun. Don't forget sunscreen, hats, etc.
Plan to drink lots of water on hikes. Large drinking containers are recommended.
The milky way is brilliant. Star charts would be fun to have, though while we are there it will be a full moon.
What to Order
Get your llama shirt. Orders need to be in by July 7 to get them made before the event.
Registration Fees -- Registration Form
Costs are $25 per adult for the entire weekend. Kids ages 10-18 are $5 for the weekend. Kids under 10 are free. Opt. family rate $50. Group discounts available. Members of 4-H or FFA, 50% off. Discounts also available for seminar and activity organizers. Inquire. Fees cover permitting, insurance, food, attendance and participation in all events. Please have registration (and T-shirt, etc. orders) in by Monday, 7 July 2013. After that date fees increase to $30 for adults.
Please make checks payable to: c/o Rattlesnake Ridge Ranch; 350 Tracie Road; Pasco, WA 99301-8895. Registration submissions are also accepted via E-mail attachment and PayPal.
The BLM fee for camp sites in the main campground (South Steens) is $6 per vehicle per night. Sites are first come, first serve. BLM does not take reservations.
Directions
From Burns, take State Highway 78 east for approximately 2 miles.
Turn right onto State Highway 205 and travel south for 60 miles to Frenchglen, Oregon. Continue on State Highway 205 through the town of Frenchglen, and up 'P' Hill. Travel approximately 9 miles. (71 miles from Burns)
Turn left on the Steens Mountain Loop Road south entrance.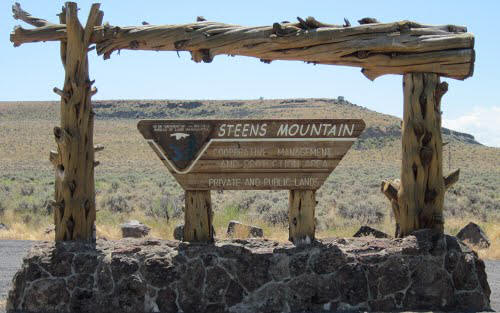 The turnoff to South Steens Campground is just over 18 miles from State Highway 205 on gravel road.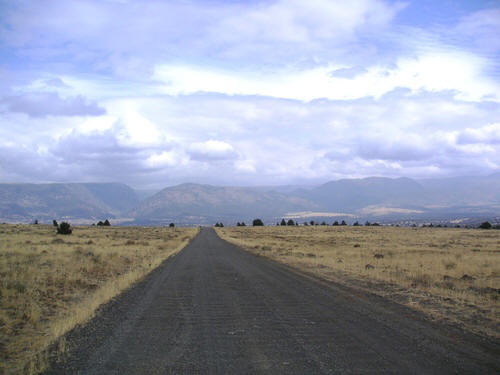 (89 miles from Burns)
See satellite view of campgrounds.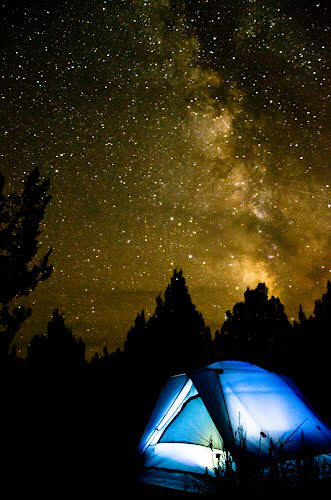 South Steens photographed at night, extended exposure.