What: 2007 Backcountry Llama Rendezvous and Drive-in.
When: June 22-24, 2007
Where: Emigrant Springs Campground, Oregon State Park, 26mi SE of Pendleton just off I-84
Why: To learn and educate others about llamas, and have fun doing so.
Last updated: Tuesday, July 06, 2021 15:08

click to view>
---
About Emigrant Springs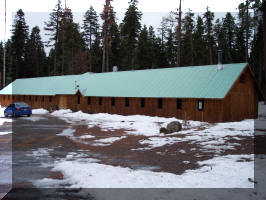 Last year's rendezvous location has been seriously damaged by forest fire, so we are relocating further south in the Blue Mountains to Emigrant Springs, located at only 4000' elevation and with easy paved access from I-84 (Old Oregon Trail Hwy).
We have rented the large recently remodeled community building, which is heated and includes a big commercial kitchen. We plan to have lots of good food available along with the comfortable refuge in case of inclement weather.
Many lodging options are available. The "primitive" camping area around the community building is reserved for us (no separate reservations are necessary). Parking of RV's and camp trailers with no hookups is allowed. Generators are allowed from 10am-6pm. Modern, clean restrooms and showers are available. Site cost is $8/night per group/family (up to eight people). Other choices away from the community building include individual more-secluded tent sites, cabins (large or small), tent sites with stables, and individual RV sites with or without hookups. All the "other choices" away from the community building require separate reservation be made on your own via ReserveAmerica. Small cabins are $20/night, large $30/night. They include beds, refrigerator, stove, oven, chairs, heating, lighting, and the large cabin has a sink. Full RV hookups are $16/night. Individual tent sites and tent sites with stables are $14/night.
NOTE: All the cabins have been reserved for the weekend. We still have some people that would like to rent a cabin. If anyone would like to share space or need to release their reservation for any reason, please let us know so we can pass the word along. Thanks!
NOTE: The park manager recently informed us, though not stated when we inquired about it last December, that all livestock (which includes llamas) are not allowed in the park proper -- only in the horse stable area and behind the community building, which is a grassy area. Behind the community building is also where the access to the roads and trails (including to the horse stable area) is located, so this should work out ok. The downside is that if you have planned to stay at a camp site away from the building, the llamas will have to be kept at the building (or horse stables). Potable water is available nearby.
For additional details and map of the campgrounds, see the brochure.
Pictures
For some panoramic views of the campground areas see Oregon State Parks
For snapshots taken in December 2006, including the camping area next to the community building, see Webshots
Activities
As with last year, this a combined event, of sorts. In addition to backcountry llama packers we invite and encourage llama drivers to attend as well and bring their carts. This area has (unpaved) forest roads and trails to drive. Of course newcomers/ investigators are encouraged to attend too -- the idea is to bring together all aficionados (and interested parties) of the working llama to learn and have fun. Youth are encouraged to attend. We're expecting many 4H kids (with their llamas). Most of these kids have show experience but few of them have actual exposure to llama packing or driving. This is a chance for actual hands-on education about what can be done with llamas as well as gaining more handling experience, strengthening their relationship with their llama.
There will be no PLTA-sanctioned Pack Trial at this year's rendezvous. The focus will instead be oriented more towards casual activities -- more educational seminars, a poker run, driving, GPS treasure hunt, fiber arts (felting, spinning), games, etc.
Friday evening after dinner is movie night in the community building. All you can eat popcorn and homemade root beer and homemade ice cream will accompany a relatively new and highly-acclaimed (96% positive by critics and audiences alike) feature length foreign (German crew) film with our cherished camelids in the central role. It's a PG-rated National Geographic production -- originally intended to be a foreign-lifestyle documentary but the filmmakers instead found themselves drawn to the plight of a particular camelid family and their caretakers. Appealing to both young and old, the Chicago Tribune reported: "Anyone who feels like they're drowning in their own polluted, godless, reality-TV-choked, errand-ridden consumerist life will find a momentary escape from modernity". The Memphis Commercial Appeal observed, "As the film unspools at its slow, observational pace, the effect is almost therapeutic, like sinking into a warm bath." From the Las Vegas Mercury, "An astonishing, mesmerizing film about a vanishing way of life". Bring a comfortable chair -- and unwind.
Debra Langley-Boyer, Master Trainer in backpacking, Master in Stock Use with Backcountry Horsemen, and Certified Leave-No-Trace (LNT) Instructor, will be providing a seminar on backcountry camping that incorporates LNT principles. She will also be sharing her felting hobby.
Scott Noga will be demonstrating how to track and locate your pack llama(s) in the wilderness if he/she runs off or wanders away. If prepared beforehand, you'll never lose your llama only to spend hours or days searching. Have the peace of mind of knowing you can quickly find them no matter where they go.
Schedule (tentative):
Friday June 22nd

| | |
| --- | --- |
| 4:30 PM | Intro to Packing with Llamas (Barb Brady) |
| 5:30 PM | Introductions |
| 6 PM | Dinner (provided) No-cook side dishes welcome for variety. |
| 7 PM | Camelid Theater! Feature length production on the big screen. Popcorn, Root Beer. Bring a comfy chair. |
Saturday June 23rd

| | |
| --- | --- |
| 7 – 9 AM | Hearty Llama Rescue Breakfast |
| 9:00 AM | Seminar: How to track down a lost llama (Scott Noga) |
| 9:30 AM | GPS Treasure Hunt (start whenever you like, check-out/check-in) |
| 10 AM | Seminar: Intro to Packing with Llamas (Barb Brady) |
| 11 AM | Seminar: Intro to Driving with Llamas (Lisi Ott & Jeff Johnson) |
| 11 AM | Lunch (provided) Available "to go" |
| 1 PM | Fiber Arts Demonstration (Herb & Barb Barrus) |
| 2 PM | Felting Demonstration (Debra Langley-Boyer) |
| 2:30 PM | Seminar: Backcountry Camping (Debra Langley-Boyer) |
| 3 PM | Llama Races |
| 3 – 5:30 PM | Poker Run |
| 6 PM | Dinner (provided) + organized pot luck |
| 7 PM | Award Presentations |
| 7:30 PM + | Root Beer Floats, Educational video presentations |
Sunday June 24th

| | |
| --- | --- |
| 7 – 8:30 AM | Hearty Llama Rescue Breakfast |
| 8:30 AM | Community Building Cleanup |
| 9 AM – 12 PM | Driving with Llamas, Hiking, Exploring, Stay as long as you like |
| | |
Monday June 25th
Some participants are heading to the Eagle Cap Wilderness for a pack trip.
*All times are approximate and subject to change. Participants are free to join the scheduled events above or groups may elect to take advantage of alternate activities. Concurrent children's activities are planned. A public llama demonstration is planned for all park campers at the campground Interactive Center stage.
Organizers / Volunteers: Scott & Gayle Noga, Barb Brady, Noel McRae, and anyone else coerced into it. The more we can get involved in organizing their own mini-activity the more of an overall event we can all enjoy and the easier the burden on everyone involved. Don't be shy!
We expect to have a couple of low-key vendors present offering llama gear, feed supplement, etc.
Primary Sponsors: Backcountry Llama Association, Llama Hardware, Oakdell Egg Farm, Rocky Mountain Llamas, Quality Llama Products, Bleyhl Farm Service, and Rattlesnake Ridge Ranch.
What is Provided
Friday and Saturday night dinner, which will include various main course selections and dessert. Potluck side dishes. Please notify us in advance of any special dietary requirements. Vegetarian and gluten-free selections are presently planned.
Hearty breakfasts Saturday and Sunday available as llama rescue fundraisers (submit voluntary donations then).
Identification for people.
Prizes and Awards.
What to Bring
Picnic tables are available both outdoors and indoors but please bring a comfortable chair and your own camping and packing gear. Main dishes, beverages and dessert will be provided Friday and Saturday night, and take-out lunch (build your own bag lunch of breads, meats, cheeses + fruit and chips) on Saturday. Friday's main dish includes turkey, potatoes, carrots, rolls and gravy. Saturday includes BBQ beans, rolls and potluck contributions. Donations of side dishes are very welcome. You are encouraged to share a favorite on-the-pack-trail dish (or side dish) and recipes. Hearty all-you-can-eat breakfasts will be provided onsite accepting donation as a llama rescue fundraiser Saturday and Sunday. Saturday breakfast includes fried potatoes, homemade sausage, eggs, juice, fresh fruit and hot beverages. Sundays breakfast is pancakes, eggs, bacon, juice/milk and fruit + whipped cream topping, and hot beverages. A commercial dishwasher is available to wash your plates and utensils, if desired. Paper products and plastic utensils will be available but supplies are limited.
Llama pack gear is recommended (optional) for the poker run. Bring your driving equipment. The weather is expected to be about 70F with sunshine, so bring your hats, sunglasses and cameras. It may cool down to about 40F at night, so some layered warm clothing is recommended. By mid June the rains are typically in the past as the hot dry summer approaches, but some light rain gear or umbrella is prudent. The forecast is sunny. The ground is dry. Grass hay and/or pellets for llamas to eat (forage is limited). Tethers or portable corrals. Water buckets and canteen/coolers (potable water is available). Bring your GPS receiver, maps and compass.
What to Leave Behind
Important: Practice Leave no Trace principles insofar as practical. Please pick up any pellets and bits of hay before you leave and deposit all garbage in the receptacles. It's important to leave the camp area clean.
Registration Fees -- Registration Form
Costs are $40 per adult for the entire weekend. Kids ages 10-18 are $15 for the weekend. Kids under 10 are free. Opt. family rate $100. Group discounts available. Members of 4-H or FFA, 50% off. Discounts also available for seminar and activity organizers. Inquire. Vendor fee $50. Fees cover the community building, prizes, food, attendance and participation in all events. Registration needs to be received by Friday, 18 May 2007. After that date fees increase to $45 for adults and $20 for 10 -18.
Please make checks payable to: c/o Rattlesnake Ridge Ranch; 350 Tracie Road; Pasco, WA 99301-8895. Registration submissions are also accepted via E-mail attachment and PayPal.
Directions
Located 26 miles east of Pendleton and 26 miles west of LaGrande, Oregon, just off Hwy I-84, exit #234 on Old Hwy 30.
East bound on I-84 take exit 234. Continue east (straight ahead) on Old Hwy 30. The park entrance is 1/2 mile on your right and is posted with a large sign, as is exit 234.
West bound on I-84 take the 234 exit. At the stop sign go west (left turn) on to Old Hwy 30. Continue west across overpass around small curve (right). The park entrance is 1/2 mile on your left.
Lat.: 45.541366 N
Long.: -118.461326 W
---
Questions? Call Scott or Gayle at (509) 545-5903 (hm) or E-mail

---