What: 2006 Backcountry Llama Rendezvous, Pack Trial and Drive-in.
When: June 16-18, 2006
Where: Godman Springs Campground, Wenaha-Tucannon Wilderness area (SE of Dayton, WA), Pomeroy Ranger District
Why: To learn and educate others about llamas, and have fun doing so.
---
Planned/Proposed Activities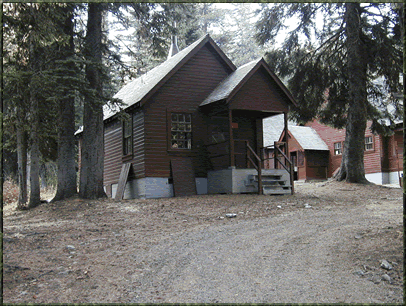 Godman Campground is the most remote (furthest in) established site in the Skyline range, at the border of the Wenaha wilderness area to the south; access is a good gravel and dirt road (smooth, but climbs 5000' -- steeply in places -- out of Dayton, WA). Sunsets are typically beautiful. It is primarily used as a base camp for backcountry expeditions. It has horse stable, camp sites with gazebo, picnic tables, fire grills, and maintained vault toilet, and a large two-story furnished rental cabin (former Godman Guard Station, built in 1933-34). The building sleeps eight people in two bedrooms, one upstairs and one on the ground floor, living room, kitchen and bathroom. Propane is used for the furnace, cook stove, refrigerator, lights and water heater. Kitchen utensils, dishes and cleaning supplies are available. There's also running water (gravity fed spring water in the building from roughly May through mid-October) and toilet. We have reserved the cabin for this event the nights of June 15 - 17. The campground area is free for tents, etc., but the cabin has a rental fee. Level RV parking space is limited and there are no RV hookups.
This a combined event, of sorts. In addition to backcountry llama packers we invite and encourage llama drivers to attend as well and bring their carts. This area has (unpaved) forest roads and trails to drive. Of course newcomers/ investigators are encouraged to attend too -- the idea is to bring together all aficionados (and interested parties) of the working llama to learn and have fun. Youth are also encouraged to attend. We're expecting many 4H kids (with their llamas). Most of these kids have show experience but few of them have actual exposure to llama packing or driving. This is a chance for actual hands-on education about what can be done with llamas as well as gaining more handling experience, strengthening their relationship with their llama.
So far, the planned activities include the following:
Potluck dinner Fri. evening., featuring varied Dutch Oven cuisine (provided). Contributions of salads, breads, condiments, beverages, side dishes, etc. are welcome. The idea is to avoid late arrivals having to cook in addition to getting settled in.
Llama packing: This will begin with a brief how-to/introductory presentation for newcomers, followed by a run through a Pack Llama Trial Association (PLTA) certified course. This will be spread over two days to accommodate basic through master double trials. This activity will be combined with a poker run for prizes. This way folks can participate just for fun, to obtain PLTA-certification, or both. Note: PLTA certification requires membership in the PLTA. (See below) Please note that the Advanced and Masters courses will be very technically challenging and not artificial. Obstacles are naturally occurring difficulties typically encountered early season, ranging from mild to extreme.

We're also looking at a wilderness pack trip between TeePee and Godman via the E. & W. Butte Trails. This is a scenic and lightly traveled route rated "most difficult" by the forest service, due to some steep switchbacks, rock outcroppings, brushy areas, and a canyon to pass through that is very difficult during high water but should be fine by mid-late June. It's 2400' down and 2600' back up (the down part is by far the steepest), over 11 miles. This activity will very likely be outside of the Fri.-Sun. timeframe (just before or after) and would be intended for experienced (with or without llamas) packers -- and includes an overnight campout midway (along Butte Creek, where fishing is good).
Alternately, there is an easy day hike from TeePee trailhead to Oregon Butte (6390', the highest point in the Washington State portion of this mountain range) and the 1931 fire lookout located there -- still in use but typically not occupied until late June / early July. This trail is six miles in and out (total), and offers a panoramic view of the wilderness area. There are other trails leaving this area -- Meadow Creek Trail and Turkey Creek Trail head north and connect via the Panjab trail along the popular Tucannon River, so a number of varied hiking alternatives are available. Expect to encounter numerous mule deer and elk.
UPDATE: As of Saturday, 6/10/06, the road from Godman Springs to TeePee trailhead still has snow drifts and uncleared deadfall on the road in places, making it impassible.
Training tips to overcome specific handling issues experienced during the trials.
Introduction to llama driving. Drive the forest roads and trails. Note: The roads and trails in this area vary in elevation. Out-of-shape llamas may tire out before traveling great distances. Teaming is recommended if so equipped.
Potluck dinner Sat. evening, consisting of a combined sampler of favorite on-the-trail cuisine (recipe sharing and denigration of ultra-lightweight backpackers is encouraged).
GPS training seminar, followed by a GPS treasure hunt (for prizes).
Leave-No-Trace educational seminar.
Fiber Arts demonstrations -- spinning, needle felting, etc.
Presentations (show-and-tell) on pack trips (good places to go with llamas).
Lighter activities include such things as a llama "coffee cup" race (more prizes).
Time to drive, socialize, explore, etc.
Note: Some events will run concurrently.
It so happens that June 16-18 is the annual All-wheels-weekend in Dayton, which is billed as the most popular car show in SE Washington. So feel free to check out the collector cars, and maybe even see Wolfman Jack as you pass through town.
Schedule (tentative):
Friday June 16th

3 PM
Intro to Packing with Llamas
4 PM
GPS Training and Treasure Hunt
6 PM
Dinner (provided)
7 PM
Pack Trial/Rendezvous Orientation
- Schedule
- Requirements
- Leave No Trace
Saturday June 17th

7 – 9 AM
4-H Breakfast
9:00 AM
Intro to Packing cont., PLTA weigh-in
9:30 AM
PLTA Pack Trial Start
- Master
- Advanced
- Beginner
10 AM - 1 PM
Poker Run (concurrent with pack trial)
10 AM – 5 PM
GPS Treasure Hunt (start whenever you like, check-out/check-in)
1 PM
Intro to Driving
2 – 3 PM
Llama Races
3 PM
Needle Felting Demonstration
4 PM
Intro to Driving
6 PM
Trail Cuisine Pot Luck Dinner. Share your recipes!
7 PM
Award Presentations
7:30 PM +
Root Beer Floats, Music, Story Telling around the fire
Sunday June 18th

7 – 9 AM
4-H Breakfast
9 AM
PLTA Pack Trial Start
- Master
- Advanced
- Beginner
9 AM – 12 PM
GPS Treasure Hunt (start whenever you like, check-out/check-in)
10 AM
Intro to Driving
12 PM
Award Presentations
*All times are subject to change. Participants are free to join the scheduled events above or groups may elect to take advantage of alternate activities such as hiking to the fire lookout on Oregon Butte.

Organizers / Volunteers: Scott & Gayle Noga, Rex & Diane McMullin, Richard Galloway, Barb Brady, Dick & Jo Sheehan, Noel McRae, Scout Troop 152, and anyone else coerced into it. The more we can get involved in organizing their own mini-activity the more of an overall event we can all enjoy and the easier the burden on everyone involved. Don't be shy!

We are still open to any suggestions for activities, presentations, presenters, etc., and we'll try to make it happen. (Anything having to do with training, llama care, fiber arts, equipment, how-to..., and educational personal experiences are always worthwhile.)

Primary Sponsors: Backcountry Llama Association, Inland Northwest Llama Association, Pack Llama Trial Association, and Rattlesnake Ridge Ranch. In addition, donations have been received from Rocky Mountain Llamas, Quality Llama Products, Llama Hardware, Oakdell Egg Farm, Red Mountain Feed, Basin Feed, Bleyhl Farm Service, GI Joe's and Rattlesnake Ridge Ranch.

The recreation director for the Pomeroy Ranger District has been contacted. He is quite excited about a llama gathering and wants to come up and visit while we are there to talk llama. He does trail maintenance himself (as time permits) and presently has mules but is considering trading some of them in for llamas. This event could prove to be very good PR for llamas throughout the Pomeroy Ranger District as more people discover the practical and environmental benefits.

Registrants: As of late May, there are over 30 primary prepaid registrants. (This figure does not include the 4H and Scout kids, etc.) It appears we will reach critical mass for lots of synergy. Add the youth to the estimate and we're expecting 50+ attendees. We're renting a couple of porta-potties due to the larger than usual attendance.

Status: There is still snow in places, even on the roads, but it is melting fast. Many wildflowers are already in bloom. For weather forecast and conditions, click Weather.

What is Provided
Friday night Dutch Oven fare, which will include various main course selections, e.g., stews, chili, spaghetti, beans and dessert. Please notify us in advance of any special dietary requirements. Vegetarian and gluten-free selections are presently planned.
Hearty breakfasts available as a 4H fundraiser (submit donations then).
A digital walk-on scale will be available for weighing llamas.
A vet student will be on site (tentative).
Identification for people and llamas.
Prizes and Awards.
What to Bring
Picnic tables are available but please bring a comfortable chair and your own camping gear including food (for both in camp and on the trail). Dutch oven main dishes and dessert will be provided Friday night and hearty breakfasts will be provided onsite by 4H volunteers accepting donation (bring cash) as a 4H fundraiser. Be prepared to share a favorite on-the-pack-trail dish (or side dish) and recipe(s) for Saturday evening's potluck – enough to serve several people. Multiple submissions are welcome. (If you don't have one, make one up that you think would work well on the trail.) It's not a bad idea to label your culinary masterpiece or even have recipes printed for handout. Llama pack gear is required for PLTA pack trials and is recommended (optional) for the poker run. Bring your driving equipment. Tenters bring a good ground pad or cot. Handwashing facilities are limited, so sanitary wipes, etc., are recommended. Toilet paper is provided but can run out with large groups. The weather is expected to be 65F with lots of sunshine, so bring your sunscreen, hats, sunglasses and cameras. It can get breezy at times, particularly during the day, and it may cool down to the 40's at night, so some layered warm clothing is recommended. By mid June the rains are typically in the past as the hot dry summer approaches, but some light raingear or umbrella is prudent. The ground is still wet in places from snowmelt, but the camp areas are all dry. Grass hay and/or pellets for llamas to eat (forage is limited). Tethers or portable corrals. Water buckets and canteen/coolers (water is spring fed -- people routinely drink this water and it is tested each Spring but you should bring your filter anyway). Bring your GPS receiver, maps and compass. If bringing an RV, there is a Chevron service station near the intersection of Main and 4th in Dayton (near the turn to Godman) with an outdoor potable water faucet that can be used for filling your water tank via hose. There is no pressurized water available at the campground. Be advised this is a rustic area. Update: With the numbers of deer and elk, ticks may be encountered on game trails, though it's still early in the season so the numbers should be few. Nevertheless, it would be prudent to apply bug repellant on your llamas where they may contact foliage. Tick tip #2 -- don't be at the head of the pack string. ;-)
Note: The Northwest Forest Service parking pass is not required for Godman Springs, (but is required for the TeePee trailhead parking area).
What to Leave Behind
Important: Practice Leave no Trace principles insofar as practical. Please scatter any pellets and bits of hay before you leave and deposit all garbage in the receptacles. We are required to pack it out ourselves.
Directions
GPS Coordinates (WGS84 Datum): Cabin 11T 0439245 5105538 Campground 11T 0439186 5105432 Elevation: 5732 feet
MapQuest
Google Map + Satellite Photo
Terraserver
From Main Street in Dayton, Washington there are several routes to Godman Springs (click on map icons):
(Shortest) Turn South on 4th Ave. (signs to Bluewood ski resort) and drive 5 miles. Turn left on Hatley Gulch Road (very steep, paved partway, then gravel). Travel 4 miles, turning right on Kendall Skyline Road (gravel, then dirt). Drive 16 miles to the campground on the right, following sign (stay right) midway to Godman Springs. UPDATE: As of Saturday, 6/10/06, this route is clear and dry. The southern dirt portion of Skyline has some blind corners and no guardrails so keep the speed down! Fortunately, traffic is very light.

(Most gradual incline, gravel) Turn South on 4th Ave. (signs to Bluewood ski resort) and drive six blocks, turning left on Eckler Mt. Road -- watch for the small white street sign on left corner pointing to cemetery. (Eckler Mt. Rd turns into Cemetery Hill Rd., which is gravel) Follow approx. 15 miles to Kendall Skyline Road, continue straight ahead for another 12 miles, follow signage (stay right) midway to Godman Springs. UPDATE: As of Saturday, 6/10/06, this route is clear and dry. Recommended route for trailers and RV's. Watch for deer crossing the road.

(Fastest, most pavement/least gravel &dirt) Turn South on 4th Ave., which turns into North Fork Touchet River Road at the city boundary, and drive 14 miles southeast to the national forest boundary; continue to Kendall Skyline Road. Turn left (southeast) and drive 11 miles to the campground on the left. UPDATE: As of Saturday, 6/10/06, this route still has snow drifts on the road in places, muddy areas and very narrow sections due to only partially cleared obstructions, making it impassible for large or low ground clearance vehicles. Not recommended unless 4-wheel drive and packing a chainsaw.
Registration Fees -- Registration Form
Required: Costs are $30 per adult for the entire weekend. Kids ages 12-18 are $15 for the weekend. Family rate (two adults + one or more children) $75. Kids under 12 are free. Fees cover prizes, food, attendance and participation in all non-PLTA events. Registration needs to be received by Saturday, 15 April 2006. After that date fees increase to $35 for adults and $20 for 12-18. Those wishing to stay at the campground Sunday night or arrive early are welcome to do so at no additional cost.
Please make checks payable to: c/o Rattlesnake Ridge Ranch; 350 Tracie Road; Pasco, WA 99301-8895.
Optional: Participation in the official PLTA pack trial requires membership in the Pack Llama Trial Association ($30/yr). Annual membership is handled directly with the PLTA but can be submitted at this event. Llama registration is $10 per llama (one-time fee). Trial entry is $10 per llama. Include PLTA llama and entry fees with event registration (above).
Update: Those wishing to attend that have not yet registered may do so on-site, but please call by Tuesday 6/12 if possible and let us know you will be coming.
PLTA Course Requirements
Five basic Manageability Tasks of haltering, jumping in and out of a trailer, saddling, loading packs, and being tied out on a picket line for 5 minutes.
1. Basic level - Minimum age 24 months. Llamas age 24 to 30 months will carry no weight, but will have filled out packs. Llamas over 30 months will carry 10% of body weight. Llamas will cover 3 miles, gain at least 250-500 feet elevation and negotiate a minimum of 5 obstacles; including 1 water, 1 deadfall, and 1 jump.
2. Advanced level - Minimum age 36 months, carry 15% of body weight, cover 5 miles, gain 750-1000 feet in elevation, minimum 10 obstacles; including 2 water, 1 rock rubble, 1 deadfall, 1 jump.
3. Master level - Minimum age 48 months, carry 25% of body weight (not to exceed 90 lbs.), cover 8 miles, gain 1000-2000 feet elevation and negotiate at least 12 obstacles; including 3 water, 2 jumps, 1 deadfall, 1 rock rubble, 1 brush, and 1 foot inspection.
See the PLTA website for more details.
---
For more photos of the Godman Springs / Oregon Butte area, visit our Packing pages!
Questions? Call Scott or Gayle at (509) 545-5903 (hm)
Note: There is no cell phone service at Godman Springs.
---