The end of August 2014 saw a trip into the Wallowa Wilderness via the East Eagle trailhead to scout out Hidden Lake. Hidden Lake is two miles off the East Eagle trail via an unofficial, unmaintained trail, at 7200' nine miles from the trailhead which starts at 4500'. Mr. T accompanied me, his first full load pack trip with no other llamas. He wasn't very fast but made the distance.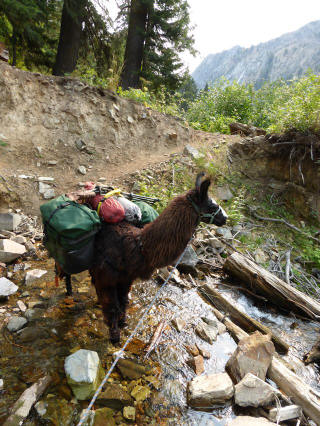 Skies were overcast with passing thunderstorms and rain showers off and on. A big storm passed over during the night with thunder only 2 seconds after the bright flashes, echoing through the valleys and cirques. Some hail was mixed with the rain. The sun peeked through from time to time during the day. The temperatures were in the upper 50's at night and near 70F during the day with light breezes, so it wasn't cold.
We saw quite a few inquisitive deer along the way, some coming within 20' trying to catch a scent of Mr. T. Marmots and other wildlife were observed.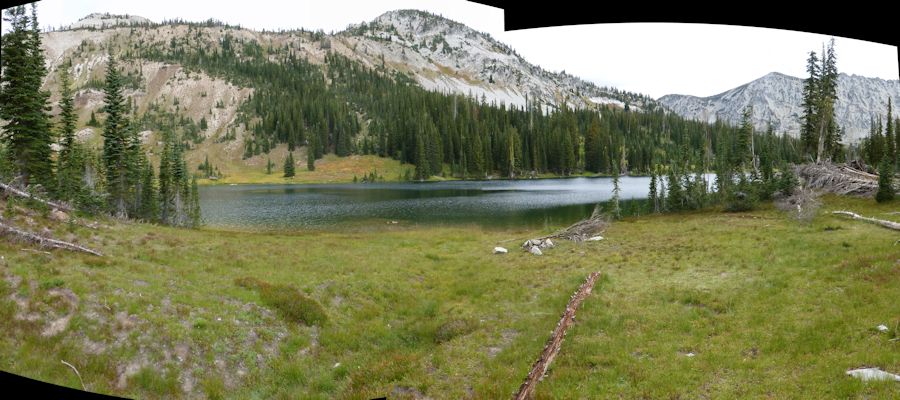 Hidden Lake, above, actually just a portion of it in view, is ringed with mountains. The name is appropriate, as the last part of the trail heads off to the west and bypasses the lake, ending at some small ponds.
Below Hidden Lake is Moon Lake.
Panorama views are available of both lakes.
Hidden Lake in Eagle Cap Wilderness Oregon by RebusCom on Photosynth